Kizer, No. 5 Notre Dame add to issues facing Pitt defense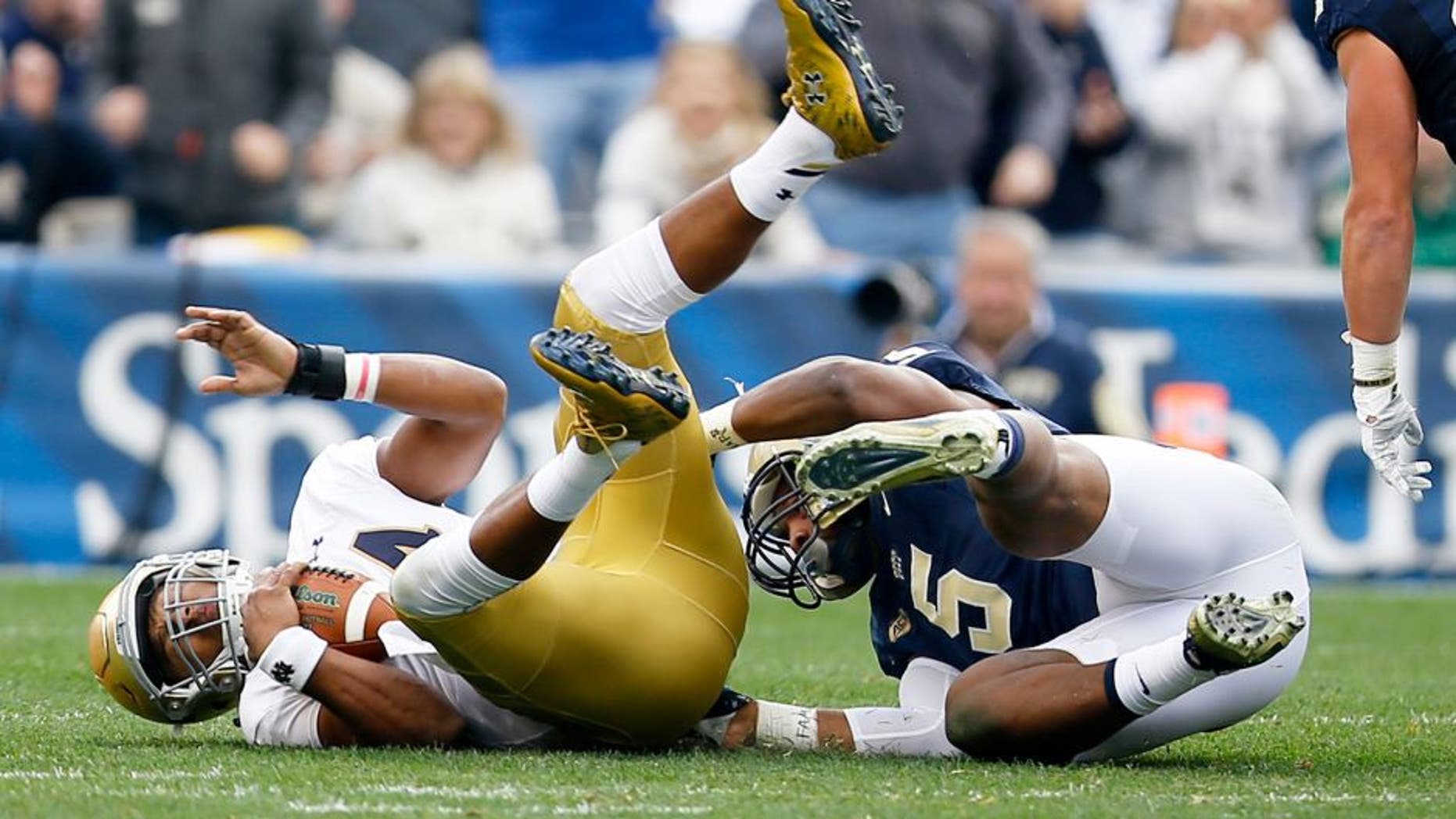 Defensive Yoda Pat Narduzzi had molded Pitt into his image, and he did so in a hurry -- or so we thought.
Over the first five games, the first-year Panthers coach's influence had led to an aggressive D that led nation in sacks and were seventh in total defense. It helped Pitt weather key offensive injuries and powered it to a No. 23 ranking and first place in the ACC Coastal Division.
But the past four weeks have painted a different reality, one that No. 5 Notre Dame drove home with a 42-30 victory Saturday in Pittsburgh.
Fighting Irish quarterback DeShone Kizer threw for five scores -- to go along with 262 yards and a rushing touchdown -- which included three in the first half for a 21-3 lead, and a continuation of what's been the biggest problem for Narduzzi's defense.
The Irish's fast start came one week after Pitt gave up 20 to North Carolina in the first two quarters, while Syracuse (17 on Oct. 24) and Georgia Tech (21 on Oct. 17) also found early success against the Panthers.
But the reason the they managed to win two of their last three -- falling only to the Tar Heels 26-19 at home -- was an ability to make key second-half adjustments and gave the offense a opportunity to find its rhythm.
Since the season-opening win over Youngstown State, Pitt hadn't allowed a third-quarter TD, giving up just three field goals in that span. In the last three weeks, that had helped them to outscore opponents 36-16 in the last two quarters.
Kizer changed any plans of another comeback, though, hitting Will Fuller for a 14-yard score with 11:19 to play in that frame to make it 21-10.
He added another TD pass -- a five-yarder to Josh Adams-- then ran one in from two yards out in the fourth. While the Panthers once again had another strong second half, scoring 27 points, its defense simply did them no favors this time.
That is except for Ejuan Price.
The end had two of Pitt's first four sacks since Oct. 17, dropping Kizer twice, and added a fumble return for a TD with 1:44 to play. But his performance couldn't keep Pitt from taking a step back for the second straight week.
Narduzzi's influence has clearly given the Panthers defense an edge, but getting past seven wins for the first time since 2010 is going to take more consistency than this unit has shown for the past month.
Follow Cory McCartney on Twitter @coryjmccartney