Kirk Cousins explains why he bothered to make a tackle in the Pro Bowl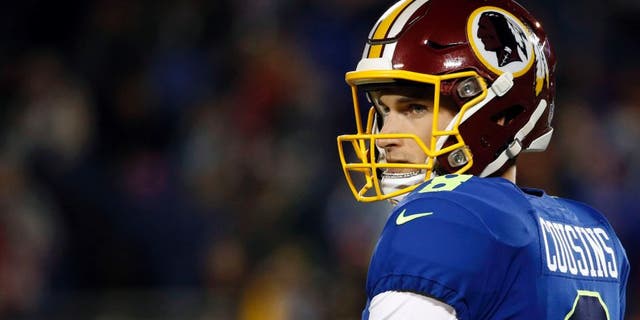 With the NFC squad trailing 20-13 in the final minutes, Kirk Cousins was driving his team of all-stars down the field in an attempt to win the Pro Bowl with a clutch touchdown pass. He marched the offense all the way down to the red zone and appeared to have thrown a game-winning touchdown pass to Jimmy Graham.
Unfortunately, the ball went right through Graham's hands and was picked off by Bills linebacker Lorenzo Alexander. He returned it to about the 22-yard line before tossing a lateral to Aqib Talib. The Broncos cornerback looked to have a clear path to the end zone for a game-sealing touchdown, but Cousins came out of nowhere and brought him down at the 11-yard line.
Cousins, who's set to be a free agent in March, explained why he ran nearly 70 yards to track down Talib in a meaningless game, and largely, an even more meaningless play.
"It's because I want to win, man," he told ESPN after the game. "I thought I had a chance to strip it, and maybe we'd recovered it. I don't know. Something could've happened. You never know. You got to play it all the way through."
Cousins did knock the ball out of Talib's hands, forcing a fumble, but Talib fell right on it to retain possession. It was a play that you'd expect a safety to make after a wide receiver bolted through the defense, but seeing a quarterback do it in the Pro Bowl is unheard of.
The Redskins quarterback said he didn't even think about his health or upcoming contract. He just wanted to win.
"No, I just wanted to make the play," he said.
It was arguably the best and most exciting play of the Pro Bowl, from the interception to the lateral to the chase-down tackle, and it put a cap on the AFC's win. Sure, it probably would have been better and more meaningful if Talib actually got into the end zone, but seeing Cousins' effort was tremendous.
Talib admitted he didn't see him coming, either.
"I didn't know," Talib said, laughing. "I saw a lineman, and when I looked this way, I saw another lineman. I thought I was going to walk in, and [Cousins] came and got me. I saw all the blue end zone, and I thought I was going to walk in."