Kipnis, Indians aim to ignite offense vs. Rays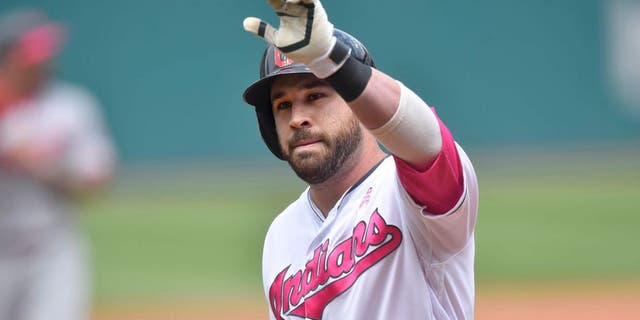 CLEVELAND -- Having temporarily resuscitated their slumbering offense, the Cleveland Indians will welcome the Tampa Bay Rays to Progressive Field on Monday night for the start of a three-game series.
Coverage begins at 6:30 p.m. on SportsTime Ohio
The Indians are trying to kickstart an offense that added a $60 million slugger in Edwin Encarnacion and welcomed back an injured All-Star outfielder in Michael Brantley to a lineup that finished second in the league in runs scored last year.
But for most of the last two weeks, that lineup has been quiet. That led to a shakeup of the roster and the lineup on Sunday, which resulted in the Indians' highest scoring game of the month.
"We know what kind of offense we're capable of having. We can put up crooked numbers with the best of them when we're going right," said second baseman Jason Kipnis, after he belted two of his team's four home runs in an 8-3 win over Minnesota.
The Indians will face a tall order to repeat the feat against a Tampa Bay pitching staff that ranks fourth in the American League in earned run average.
Kipnis has replaced Carlos Santana as the Indians' new leadoff hitter. Santana, who has been dropped to fifth in the lineup, also homered on Sunday.
All that offense came after the Indians had scored one run and had six hits total in the first two games against Minnesota. Prior to Sunday, the Indians had been held to three or fewer runs in nine of their previous 11 games.
"It's not been a good 10 days for our offense," Indians manager Terry Francona said prior to Sunday's outburst.
If the hits keep coming Monday night against Tampa Bay, they will have to come against Chris Archer (3-1, 3.04 ERA), who began his professional career with the Indians.
Cleveland selected Archer in the first round of the 2006 June Draft. As an opponent, he has not done well against his former team. Archer was 0-2 with a 4.76 ERA in two starts versus the Indians last year. In five career starts against Cleveland, he is 0-5 with a 5.14 ERA.
Archer, however, is off to a strong start this season.
"He's in a good spot," Rays manager Kevin Cash told MLB.com. "If you look at Arch, he's commanding the fastball, he's proving early to lineups that he's able to throw that, and then it just opens up many other avenues to get people out later in the game."
Archer has a 1.69 ERA in his last three starts. In 21 1/3 innings, he has allowed 13 hits, with 27 strikeouts, three walks, and an opponents' batting average of .215.
Cleveland will turn to Carlos Carrasco (4-2, 1.86), who has been the Indians' best starter this season. In his last start, a 6-0 win over Kansas City on Tuesday, Carrasco scattered three hits over seven innings, with seven strikeouts and no walks.
Carrasco is 3-3 with a 2.47 ERA in seven career appearances, six starts, against Tampa Bay,
The Indians made multiple roster moves on Sunday.
Outfielder Brandon Guyer was placed on the disabled list with a left wrist sprain.
Also, the contract of outfielder Daniel Robertson was purchased from Columbus and infielder Erik Gonzalez was recalled from the Triple-A club, and utilityman Michael Martinez was designated for assignment.