Kings' McNabb, Ducks' Stoner selected by Vegas Golden Knights in NHL Expansion Draft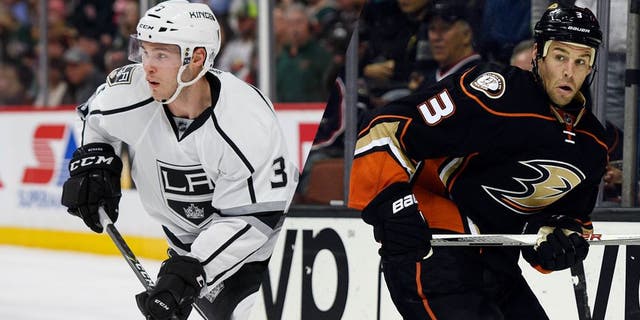 NEWYou can now listen to Fox News articles!
The NHL has a new team and the Anaheim Ducks and Los Angeles Kings are three less defensemen between them as a result.
At the NHL Awards and Expansion Draft in Las Vegas, it was announced Los Angeles Kings defenseman Brayden McNabb and Anaheim Ducks defenseman Clayton Stoner had been selected by the Vegas Golden Knights. The Ducks will also send defenseman Shea Theodore to Vegas as well.
For the Kings, McNabb was a physical presence on the blue line but played only 49 games last season due to a broken collar bone. His four points in 2016-17 were done from 24 and 14 in the previous seasons and as LA Kings Insider Jon Rosen notes, he'd been passed in the depth chart as the season progressed.
While Kings fans would have liked to see Vegas lift the burden of one of their heavy contracts like former captain Dustin Brown ($5.875M cap hit) or Marian Gaborik ($4.875M), the loss of McNabb is not likely to make many lose sleep.
The Ducks had a bit of a different situation on their hands when it came to the draft. With talented young defensemen Sami Vatanen and Josh Manson left unprotected due to the high amount of no-movement clauses on the team, Anaheim fans were preparing for the the worst.
The selection ofStoner and his $3.25M cap hit is a big win for GM Bob Murray. Stoner was injured much of last year and greatly surpassed by rising young defensemen like Theodore and Brandon Montour.
But it was all roses for Ducks fans, as the aforementioned Theodore was sent to Vegas as part of the deal to ward off selection of Vatanen or Manson.So doing the math for the Ducks it's two talented defensemen retained, one bad contract gone and one promising defenseman gone.