Kings head into Game 2 without Stoll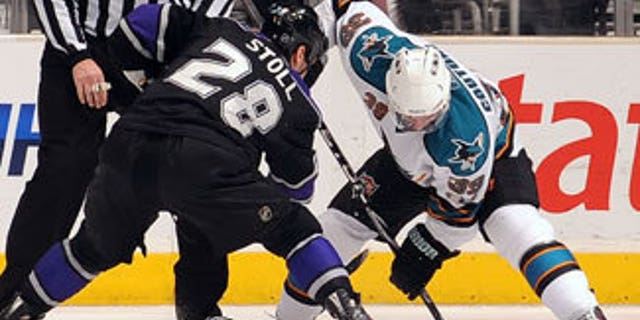 SAN JOSE, Calif. -- All was quiet on the Western Conference front Saturday morning at HP Pavilion as the San Jose Sharks and Los Angeles Kings geared up for Game 2 of their quarterfinal playoff series.
One day after the teams exchanged some verbal barbs, coaches and players put aside a couple of on-ice incidents in the series opener -- one resulted in a one-game suspension for the Kings' Jarret Stoll -- saying they were ready to move on.
"Stoll was a big loss for us, but that's the way it goes," Kings coach Terry Murray said of his second-line center, who will serve an NHL-imposed suspension for his first-period hit from behind against Sharks defenseman Ian White, who suffered what is believed to be a concussion and won't play Saturday night.
"The suspension has been handed down. I accept it. I agree with it, so we move on and we adjust and we play with what we got."
Murray declined further comment when asked about his Friday remarks in which he said the hit that Sharks defenseman Jason Demers put on Kings forward Ryan Smyth in the third period was "five times" worse than Stoll's hit against White.
Neither incident resulted in a penalty.
"It's time to turn the page," Murray said. "This is Game 2, forget about it. The game is over, there was a lot of competitive atmosphere, there's a lot of competitive play. It was a good game and this is now Game 2 and that's the focus."
Trevor Lewis will move from the fourth line to Stoll's spot between wingers Ryan Smyth and Justin Williams. Oscar Moller, a healthy scratch in the opener, will take Lewis' place on the fourth unit with Kevin Westgarth and Wayne Simmonds.
The Kings' original plan was to recall John Zeiler from Manchester of the American Hockey League to center the fourth line. But he would have had to clear re-entry waivers and wouldn't have been able to join the team in time for Saturday's game.
"It's one of those technicalities or rules of the game," Murray said.
Sharks coach Todd McLellan, meanwhile, said he hadn't yet decided whether to use Kent Huskins, 31, or rookie Justin Braun, 24, as a replacement for White.
"Is he feeling better?" McLellan said of White. "I think once he passes the tests he needs to pass and he can get out there and skate and perform the way he's supposed to perform … he's probably not 100 percent. We're waiting for that to happen."
Asked about Stoll's suspension, McLellan said: "It's a situation that needed to be reviewed and from there the league has criterion that they refer to as far as length -- or if -- and they made their decision and we all move on."
Huskins, a 6-foot-4, 210-pounder, won a Stanley Cup with Anaheim in 2007, but he hasn't played since suffering an upper-body injury in a Feb. 19 game against Colorado. He has skated the past two days and is available. Braun split time between San Jose and Worcester in the AHL, and the Sharks believe he is capable of making the kind of impact that center Logan Couture did in last year's playoffs (four goals in 14 games) as a rookie.
"(That would be) some big shoes to fill," said the 6-2, 205-pound Braun, who had two goals and nine assists in 28 games with the Sharks. "I don't want to be compared to him. It's a different situation. I just hope to try and repeat what he did, I guess. I just have to go out there and play my game."
Demers said he would continue to play a physical brand of hockey despite Murray's strong suggestion that he should have been suspended for his hit on Smyth, who wasn't injured.
"He's saying I left my feet," Demers said of Murray. "We went and dumped it in and I was going to jump forward and (Smyth) started leaning back and it sort of ended up like a football tackle because he was falling backwards and I just fell on top of him. That's the way I saw it. If he had kept going forward, nothing would have happened. I think the refs got it right.
"It may have looked questionable, but from my point of view the refs got it right and we move forward from there. Everyone has their opinion. I can't be mad at him or anything for his opinion. He saw what he saw and I saw what I saw. There's not much I can do about that.
"I'm going to keep hitting and I'm going to keep playing aggressive. It's playoff time, so I think it's time to step up our physical game. Maybe he is trying to get in my head, but I'm just going to play the same way I played last game, finishing hits."
McLellan said he read about Murray's comments and noted that the League chose not to penalize Demers.
"If it was a penalty, it would have been called on the ice, although referees do miss some calls sometimes; we're all human," he said. "If it was an excessive hit, supplemental discipline and the review of that situation would have been approached by the League, and it wasn't. So I guess we have our answer there."
Smyth said Saturday he thought Demers' hit warranted a penalty, but he didn't make a big deal out of it.
"Actually, on the ice at the time I thought it was a (penalty)," he said. "Obviously the refs didn't feel that way. I thought it was a little high, at my head, but things like that happen in a game. It's part of it. I'm OK, I'm fine."