Kidd indicates Giannis will remain at point guard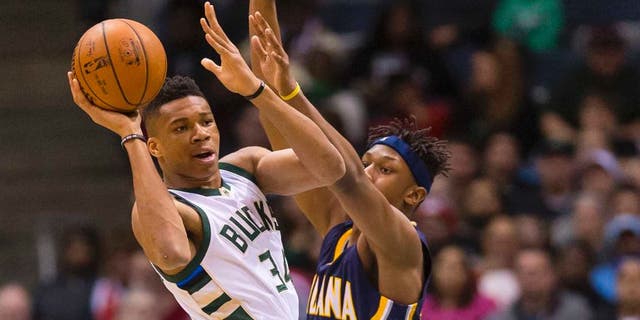 NEWYou can now listen to Fox News articles!
Jason Kidd and the Milwaukee Bucks wanted to make the playoffs last season, but if there is a silver lining to a losing season and missing out on the postseason it is a team can start experimenting. And that's just what Kidd did with Giannis Antetokounmpo.
Kidd noted in his first season as head coach, he tried Antetokounmpo at point guard in the preseason but admitted in an article he posted on his website www.jasonkidd.com "it didn't really work out."
But having the 6-foot-11 "Greek Freak" playing point remained in the back of Kidd's mind. With the Bucks struggling in 2015-16, why not give the kid a shot?
"That worked out very well and we all thought he did a really good job," Kidd wrote. "Giannis took a step forward in terms of understanding how to run a team. It's not an easy thing to learn, and he's going to continue getting better."
Antetokounmpo didn't just do well, he flourished. In the Bucks' final 26 games (from Feb. 22-April 13), he averaged 18.8 points, 8.4 rebounds, 7.5 assists, 1.9 blocks, 1.5 steals per game. Oh, and he shot 51.5 percent from the field. Antetokounmpo also recorded five triple-doubles. No Bucks player ever had more than three in a season, and surpassed that in 26 games.
"He was engaged on both ends of the floor. It got him in the open court, which highlights his natural abilities," Kidd explained in the article. "One of his strengths is being able to find guys, and he did a really good job with that.
"Being able to see the floor the way that he does makes the game easy. It makes it exciting for his teammates because they all know they have a chance of getting the ball. Being as tall as he is, he has so many natural advantages. His skill set -- to be able get into the paint and finish -- puts a lot of pressure on a defense."
Another thing Kidd noted that Jabari Parker, healthy and self-assured, also thrived. In that same 26-game span mentioned above, Parker averaged 18.3 points per game on 49.5 percent shooting.
"With Giannis playing the point, you could see that both their confidence levels had taken off, and that they could play really well together," Kidd wrote of the Antetokounmpo-Parker tandem.
So, Giannis will remain at point guard in 2016-17, right? It sure seems that way as Kidd is thinking about the ways he can assist.
"There are still plenty of things he has to learn, and hopefully, as a point guard myself, I can help him understand game management -- the importance of time and score, and just the little things it takes to be a good point guard," Kidd wrote.
Kidd clearly thinks Giannis can be more than good, though, adding "It's just a matter of time before he's an All-Star on a consistent basis."