Khris Davis believes stars aligned for A's trade: 'It was definitely a sign'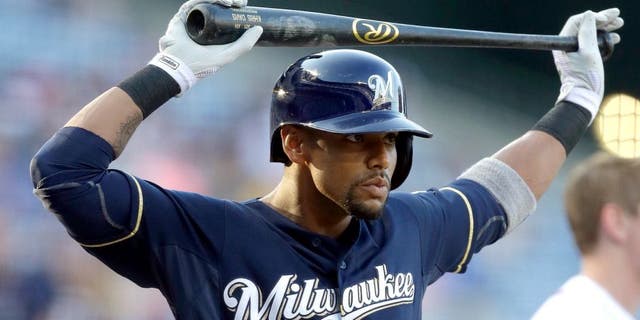 When he was traded to the Oakland A's last Friday, slugger Khris Davis thinks there were larger forces at work than just two GMs orchestrating a deal.
Davis recalls the moment he was told he would join the A's after eight years in the Milwaukee Brewers' organization, three of which were spent with their major-league club.
From the Milwaukee Journal-Sentinel:
In the Journal-Sentinel's story, Davis admits that he had a feeling that he could be on the move upon the hiring of new general manager David Stearns last year.
Nonetheless, he says he doesn't feel any resentment towards the organization in the wake of the trade.
"None at all," he said. "Milwaukee's a sweet home for me. I couldn't be more grateful for the opportunity they gave me, but that's the way the business goes, and I was ready for whatever happened."
The 28-year-old left fielder quickly asserted himself as a prolific power-hitter during his time with the Brewers, averaging 24 home runs and 68 RBI over the past two seasons.
Although he's excited at the opportunity to play back in his native California with the A's, Davis says he would one day like to return to the organization where he developed as a major-leaguer.
"In my dream scenario world, I come back and finish my career in Milwaukee," the former seventh-round draft pick said. "The back end of my career. That's kind of my home. I was raised by a lot of those staff members."