Khabib Nurmagomedov's management confirms that he doesn't yet know if he'll return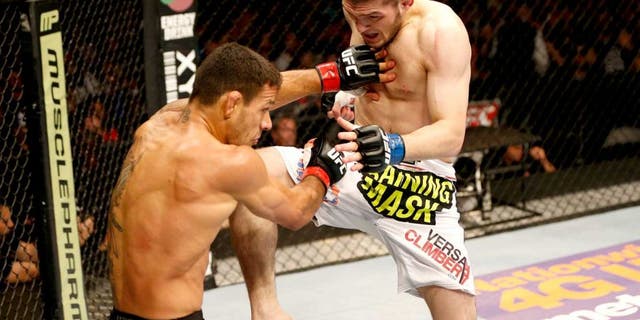 Last week a once-more injured and very frustrated Khabib Nurmagomedov posted on his Instagram account that he was "not sure if I will ever come back" to MMA competition. The top lightweight contender had good reason to doubt as he has not fought since April of 2014, when he beat now champion Rafael dos Anjos, due to a series of serious knee injuries.
His latest injury is to his ribs. According to a UFC Tonight report, his management team -- Dominance MMA -- said that the wrestler injured his ribs doing "light grappling" with Islam Makhachev while in his native Russia.
His management insisted that the fighter was not sparring or doing anything particularly strenuous when the rib popped. Nurmagomedov's management team also confirmed that "The Eagle" was accurate with his earlier statement that it isn't yet known whether or not he'll be able to mount a comeback.