Khabib Nurmagomedov wants to fight now: 'I need an opponent'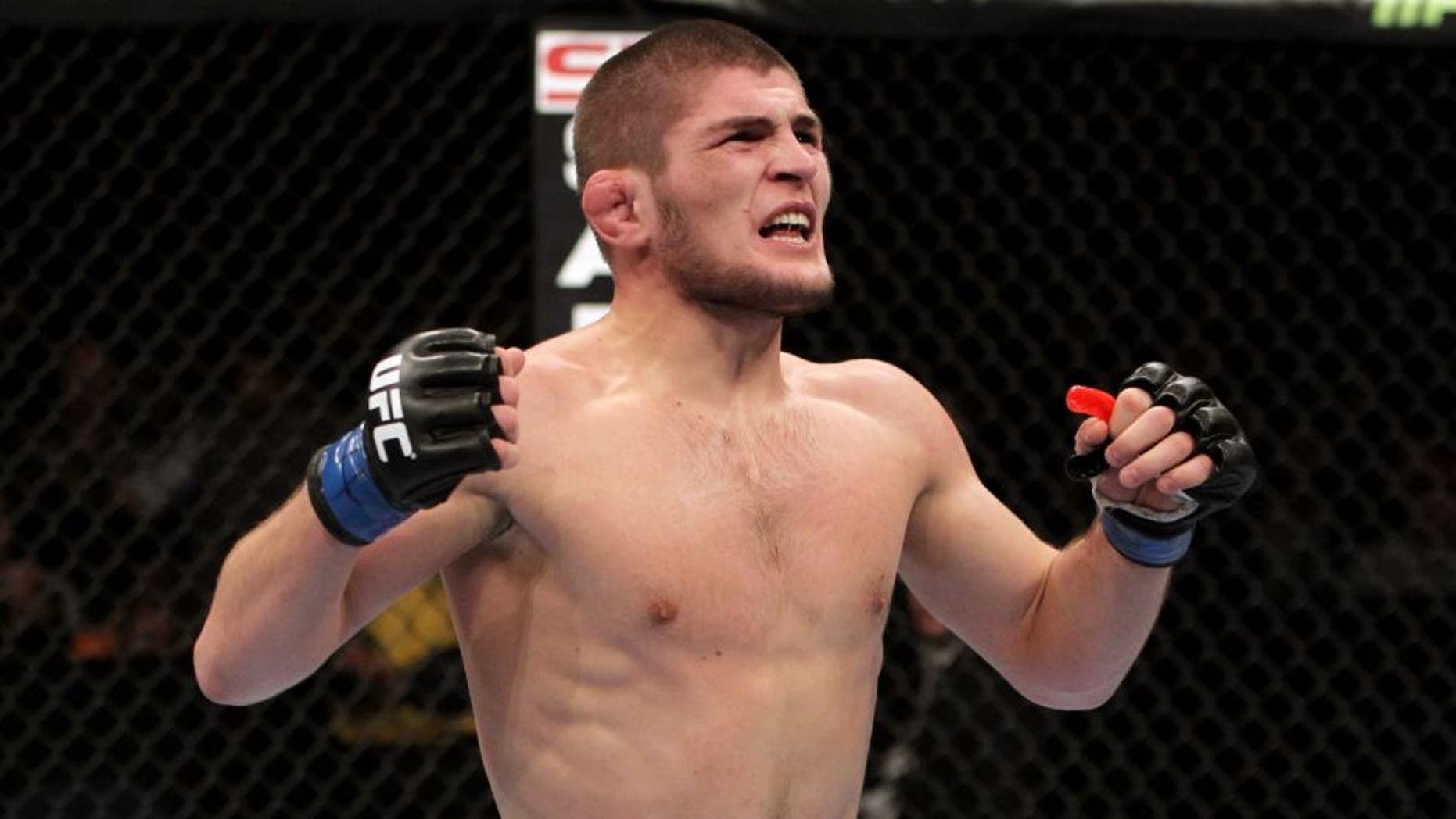 It's been a long two years for top-ranked lightweight contender Khabib Nurmagomedov after a string of injuries put him on the sideline instead of inside the Octagon where he belongs.
Before he was put on the shelf, Nurmagomedov was considered the top choice to receive a lightweight title shot after he mauled current champion Rafael dos Anjos in his last fight in 2014.
Nurmagomedov was finally set to return next weekend at FOX UFC Fight Night in Tampa but after his opponent Tony Ferguson fell off the card due to injury, he was clamoring for any replacement just so he could fight.
It appeared Nurmagomedov found his huckleberry in Donald "Cowboy" Cerrone, who accepted the fight on 10 days notice. But then once again, the fight fell apart. Nurmagomedov was told "Cowboy" was injured but Cerrone claims that's not the case.
Either way, Nurmagomedov wants to fight and he doesn't want to wait any longer.
"I want to fight April 16 and I want to go to see my family and my friends and everybody," Nurmagomedov told FOX Sports late Wednesday night. "Because I left my family, I left my country to come here and train for this for almost four months so this is a very hard decision for me. To stay here two more months and fight May or June or something like this.
"The UFC wants me to wait for Tony Ferguson. When I'm injured, Tony Ferguson and the UFC aren't waiting for me. Why do I have to wait now? Why? For what? I am ready to go now. I need somebody now -- 155 or 170 -- I need somebody now. I need an opponent on April 16. I'm ready to go. My country has been waiting for a fight for a long time. My friends around the world. I need this fight."
Nurmagomedov was forced to watch his past opponents take on different fighters when he was injured so he just wants the same courtesy paid to him. When Ferguson was injured, Nurmagomedov was understanding. But now he just wants to fight anybody willing to step up to the challenge.
"I don't understand what's going on," Nurmagomedov said. "The UFC has a lot of fighters at 155 and 170, why these guys don't want to give me a fight, I don't understand this. When I'm injured, the UFC gave "Cowboy" Cerrone -- John Makdessi. When I'm injured the UFC gave Tony Ferguson -- Edson Barboza. The last fight "Cowboy's" opponent got injured, they gave him the one Brazilian guy (Alex Oliveira). All the time the UFC does this, now the UFC doesn't want to do this, I don't understand why?
"I'm ready to go. The UFC has to give me somebody. I said 'hey let's go 170, too'. I have to fight."
Nurmagomedov's frustration only grows thanks in part to Cerrone saying he was ready to go, but then the fight was nixed.
Instead it appears the UFC is favoring a May showdown with Nurmagomedov challenging Ferguson once he recovers from having blood in his lungs, which forced him out of their fight next weekend.
The anger Nurmagomedov is feeling comes from the times he was forced to pull out of previous fights and his opponents all got replacements. He doesn't know why there are different rules in place for him.
"Cerrone signed a contract. I signed a contract, too," Nurmagomedov said. "I show him my signature, why not at 170? The UFC said 170, I said no problem. But now I don't understand what's going on. If "Cowboy" is ready to go, I'm ready to go. This is a big fight. Why not?"
"Tony Ferguson didn't wait for me in December, why do I have to wait for him now? Why? Two more months training hard? I am ready to go now. Tony Ferguson is injured -- he needs to shut up and recover. When I was injured, I shut up. Now Tony Ferguson needs to shut up and recover and come back strong. This is what he needs to do for him. But my time is coming now, I need an opponent."
Nurmagomedov also noted that when he was suffering through a litany of injuries, every lightweight on the planet seemed to call him out for a fight.
Now that he's healthy and ready to go to war, Nurmagomedov notices that everybody has suddenly lost the ability to speak.
"When I'm injured, everybody's talking," he said. "Now I'm ready to go and I'm healthy and everybody shuts up. Everybody's quiet. Eddie Alvarez, Anthony Pettis, "Cowboy" Cerrone, Tony Ferguson, everybody now shuts up when I'm healthy. I don't understand what's going on."
One thing Nurmagomedov makes clear while imploring potential opponents to message him on Twitter along with UFC president Dana White is that this entire ordeal isn't about money.
In fact, Nurmagomedov goes out of his way to say that it's not about money, but rather his need and desire to step back into the Octagon after two years away.
"This is not about money," Nurmagomedov said. "I don't fight for two years. I need to feel blood, I need to feel the cage, I am ready go. My mind says 'hey, you have to fight next Saturday'. This is everything."