Khabib Nurmagomedov trash talked Conor McGregor between rounds at UFC 205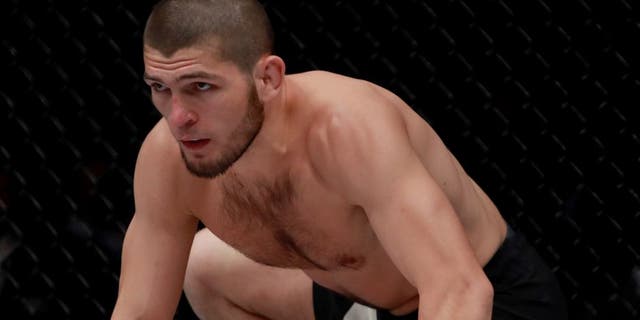 Khabib Nurmagomedov knows he's the No. 1 contender in the lightweight division and he'll tell anybody who will listen -- including UFC president Dana White between rounds of his fight at UFC 205.
Nurmagomedov won a lopsided fight with Johnson, who he submitted in the third round after smashing the veteran lightweight on the ground throughout the first 10 minutes.
White revealed at the UFC 205 post fight press conference that Nurmagomedov was demanding a title shot during his fight and while that sounded crazy at the time, it turns out to be absolutely true.
In a new video released by the UFC giving a deeper look at the historic event from New York, Nurmagomedov can be heard between rounds talking trash about Conor McGregor to White, who was sitting just a few feet away in the corner during his fight.
"Hey, be careful. I'm gonna smash your boy," Nurmagomedov said to White between rounds.
"Just get through this first," White responded.
That wasn't all Nurmagomedov had in store as he then turned his attention to Johnson, who he just so happened to be pummeling on the mat while talking to him at the same time.
"You have to give up. I need to fight for the title. You know this. I deserve it," Nurmagomedov said in between punches and elbows.
After the fight was over, Nurmagomedov turned his attention towards McGregor as he called the new lightweight champion 'a chicken' and promised to smash the Irishman if they ever got into the cage together.
While Nurmagomedov's words were chilling, the new video also shows an emotional look at Miesha Tate's decision to retire just moments after losing a decision to Raquel Pennington.
"I'm not showing up anymore in here. I don't care enough. I just, I don't have it anymore," Tate told her boyfriend Bryan Caraway, who was working in her corner during the fight.
"I don't want to fight anymore, Bryan. I don't want to do this anymore."
Moments later, Tate officially announced her retirement from the sport after putting together one of the most impressive resumes of any fighter in the history of women's mixed martial arts.