Khabib Nurmagomedov: I don't have unfinished business with Tony Ferguson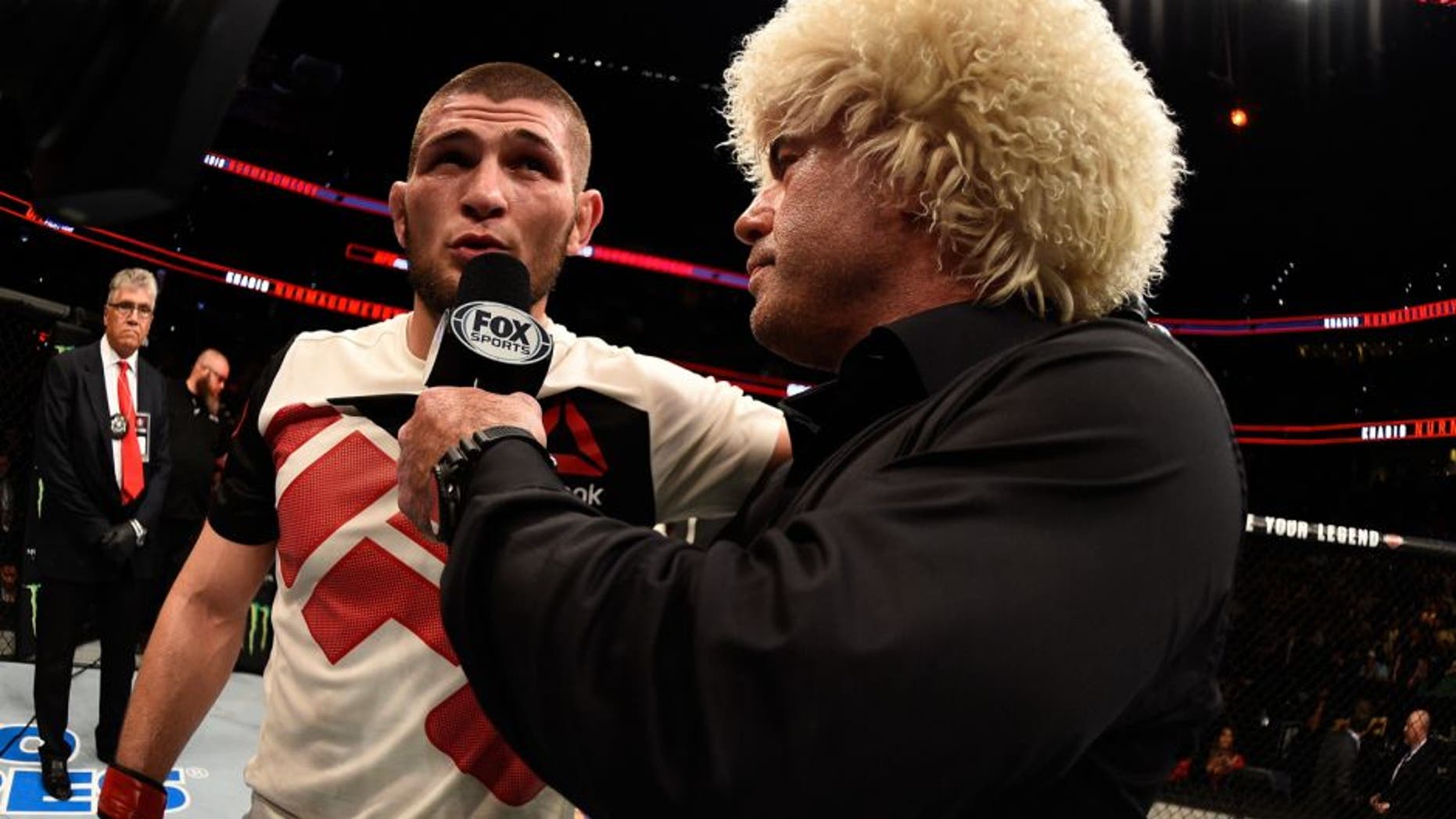 Khabib Nurmagomedov made his long awaited return to the Octagon this past Saturday night where he dispatched late replacement Darrell Horcher with a brutal second round TKO after two years away from the sport due to injury.
Nurmagomedov was originally expected to face Tony Ferguson in the main event but a last minute injury force him to drop out of the contest. Nurmagomedov and Ferguson were also previously scheduled to meet last December before an injury kept that fight from happening as well.
Now, following Nurmagomedov's comeback victory, Ferguson took to Twitter to say he wasn't impressed by his performance.
The Dagestani native refused to take the bait and instead says Ferguson will just have to get back in line because he's worried about bigger and better things like winning the lightweight title.
"I don't have unfinished business with this guy," Nurmagomedov told FOX Sports after his win. "He's not here because he don't come here. He pulled out. When I pulled out in December, UFC gave him (Edson) Barboza -- I don't say nothing, I stayed quiet because this is my fault. He pulled out injured and he talks too much.
"Tony, April 16, I come here, he doesn't come. This is not my problem. Maybe somebody says I fight against a no name, but this is not my problem. I asked please only give me tough opponent, this is what I've asked all of my career in the UFC and if these guys don't fight with me, this is not my problem."
Ferguson asked to face Nurmagomedov on May 29 as part of the upcoming UFC Fight Night card landing at Mandalay Bay in Las Vegas, but the top ranked lightweight contender isn't interested.
Nurmagomedov says he's gone through a rigorous training camp to get ready for his fight on April 16 and now it's time for some much needed rest while also returning home to spend time with his family.
Nurmagomedov is also a practicing Muslim and Ramadan starts on June 7 this year, which means he'll be fasting for an entire month and it's not possible to fight during that time.
So rather than rush back for another fight right away, Nurmagomedov would prefer to sit out until the fall when he could hopefully challenge for the UFC lightweight title against Rafael dos Anjos. Nurmagomedov beat dos Anjos in 2014 and he'd like the chance to do it again with the belt on the line.
"After two years, six months is nothing for me. Tony (called me out) for May 29 but I'm training for this camp beginning in January, almost 100 days. I'm training very hard for my comeback because this is very important because I'm in shape after 100 days, you saw my performance. I know and I feel my body needs rest. June begins Ramadan and I want to rest a little bit and come back September/October," Nurmagomedov explained.
"I think if the UFC wants to make a very smart decision for New York -- in New York are living a couple million people who speak Russian and I'm famous in New York. I can fight in New York. We'll see. Now I think I deserve a little bit of rest."