Khabib Nurmagomedov getting healthy, hopes to face Pettis vs. Alvarez winner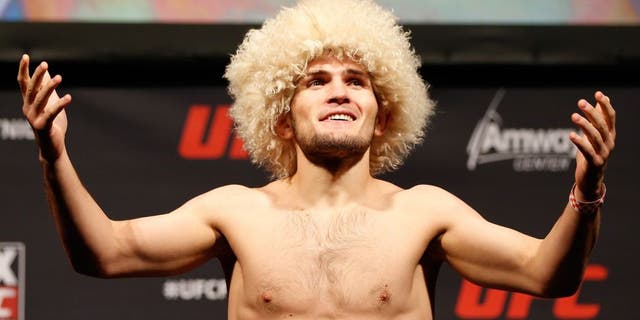 Khabib Nurmagomedov is slowly working his way back and he'd like to face the winner of the upcoming fight between Anthony Pettis and Eddie Alvarez when he's finally ready to return.
Nurmagomedov is arguably the best lightweight in the world who isn't holding the title currently and considering he holds a win over champion Rafael dos Anjos he might even stake a claim to the top spot as well.
Unfortunately, Nurmagomedov has been plagued with injuries the past two years that have kept him sidelined. His last scheduled fight at "The Ultimate Fighter" finale against Tony Ferguson was scrapped a few weeks out when he suffered a rib injury.
Now Nurmagomedov is healed up and training the 'right' way according to Ariel Helwani on "UFC Tonight" on Wednesday.
As far as his choice of opponents, Nurmagomedov isn't calling anybody out or trying to talk trash to Pettis or Alvarez, but the winner of that fight would be the most logical choice for the quickest path back to a title shot.
Nurmagomedov also says Nate Diaz would be a potential opponent and the two of them have some 'unfinished business'.
There's no exact date when Nurmagomedov will be available to fight again but it sounds like he's going to make sure his body is healthy first and foremost before booking his next opponent in the Octagon.