Key base-running decision proves Royals are lucky and good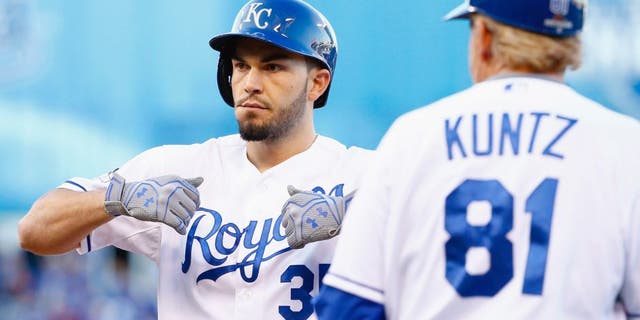 NEWYou can now listen to Fox News articles!
The way Royals first-base coach Rusty Kuntz saw it, Kendrys Morales was going to hit either a groundball or a flyball. He wasn't going to hit a line drive, even though he had done just that in his previous at-bat, defying his normal tendencies.
Slowly but surely, the Royals were igniting. A fluke hit by Ben Zobrist had started their seventh-inning rally from a 3-0 deficit. Lorenzo Cain and Eric Hosmer had followed with opposite-field singles, reducing the Blue Jays' lead to 3-1. And now here was Morales, leaving Kuntz with a decision.
Oh, the Royals had some luck Saturday in their 6-3 comeback victory in Game 2 of the American League Championship Series. Zobrist's routine flyball dropping between second baseman Ryan Goins and right fielder Jose Bautista, that was luck. The byproduct of crowd noise and home-field advantage perhaps, but still luck.
What followed was not luck, at least not to anyone who watched the Royals in last year's Wild Card Game, or in Game 4 of the Division Series against the Astros. Saturday was Crazy Royals Comeback No. 3, and in some ways it was the most stunning of all.
Blue Jays left-hander David Price had a one-hitter when the seventh inning began. He had retired 18 straight hitters, thrown only 66 pitches in six innings. If not for Kuntz's decision to start Hosmer on an 0-1 changeup to Morales, maybe Price would have gotten the double-play ball he needed, and maybe the Royals' five-run inning never would have happened.
But Kuntz's decision --€" and countless decisions like it by manager Ned Yost and his coaching staff over the past two seasons --€" are part of the reason the Royals are so good.
The idea, Kuntz said, was to keep the slow-footed Morales out of the double play. The data supports Kuntz's claim that Morales usually hits the ball on the ground or in the air --€" Morales' groundball rate in the regular season was 44.9 percent, his flyball rate 34.7 percent, his line-drive rate 20.4 percent, according to FanGraphs. To Kuntz, though, Morales' tendencies seem even more extreme. "One line drive in the last three months, I'll take my chances," the coach said, smiling.
Yet even then, his decision could have backfired.
The previous line-drive out by Morales --€" a bullet to Jays third baseman Josh Donaldson -- had given Kuntz pause, causing "the rabbits to start turning in my head." Another line drive by Morales with Hosmer running, and it's a double play. A groundball by Morales with Hosmer not running, same outcome. Only a flyball entailed little risk; Hosmer could have scampered back to first safely.
Kuntz said the staff already had discussed the situation in the dugout, deciding --€" as the Royals usually do --€" "we gotta go." Price, mind you, had not allowed a single stolen base during the regular season, prompting Hosmer to crack afterward, "Good thing I found out now instead of before." Asked if he was surprised that Kuntz ordered him to run, Hosmer came up with another good line, saying, "I saw Billy Butler steal a base last year in the postseason. I'm not surprised at all."
In any case, the last laugh again belonged to the Royals.
Morales hit a grounder to short, a likely 6-4-3 double play if Hosmer not been running. But Hosmer reached second safely and Cain scored from third, reducing the Jays' lead to 3-2. The Royals would add two more run-scoring hits off Price in the inning and another off reliever Aaron Sanchez. Only one of their six hits was pulled.
Much of the talk afterward was about Zobrist's popup that fell between Goins and Bautista, a ball that Goins called for and admitted that he should have had. Zobrist spiked his bat in frustration after lofting the ball to right, thinking it was an out. He mused later that he might have advanced to second if he had actually run hard.
"It hung up long enough for the right fielder to get there," Zobrist said. "Somebody has to charge and make the play. It's tough when the crowd is that loud and you think maybe the outfielder is calling you off. I've done that, too."
At the time, it appeared the tiniest of openings --€" the second Royals hit off Price, and not much of a hit at that. But a barrage of singles followed, just as it did in the five-run rally against the Astros in Game 4 of the Division Series comeback. The two comebacks featured a combined 11 hits, only one for extra bases -- Alex Gordon's go-ahead double that knocked out Price.
None of this should surprise us anymore; it's how the Royals roll. Kuntz said afterward that his own call was more lucky than good, reasoning that Morales easily could have lined into a double play. But it didn't turn out that way, did it?
Nope, the Royals are lucky and good. And they lead the ALCS, two games to none.