Kevin Love signs four-year, $120M extension with Cleveland Cavaliers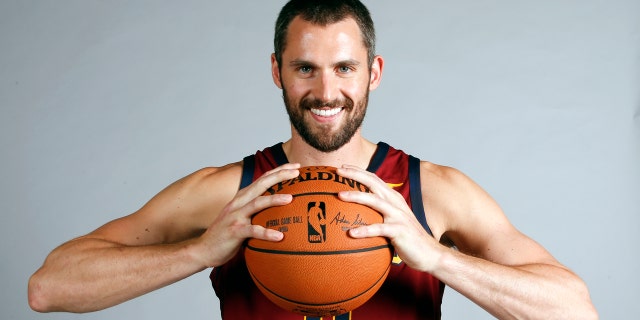 CLEVELAND – Kevin Love isn't leaving Cleveland anytime soon.
The All-Star forward signed a new four-year, $120 million contract with the Cavaliers, who are beginning anew following LeBron James' departure.
Love signed the extension Tuesday and immediately posted a photo on Instagram showing himself surrounded by construction workers inside Quicken Loans Arena, the Cavaliers' downtown home, which is undergoing a renovation similar to the one taking place with the four-time defending Eastern Conference champions.
"When I first came to Cleveland, I came with a long-term mindset," said Love, who joined the team in 2014 after six seasons in Minnesota. "I came here to win. We developed a culture here that reflects that. I'm super excited and I couldn't be happier. It's a big commitment for me and it's a big commitment from the Cavaliers, so I want to thank (owner) Dan Gilbert, (general manager) Koby Altman and the entire organization.
"I enjoy playing here, I'm excited about the team that we have and look forward to our future together. Cleveland fans have been special from day one and I'm also looking forward to continuing to be a part of this great community."
Love will make $24.1 million next season before the extension begins, making the whole package worth $145 million over five years. Love waived his option for 2019-20 and there are no other options or trade clauses within the new deal.
He will be paid $28.9 million in 2019-20, $31.3 million in 2020-21 and 2021-22, and $28.8 million in 2022-23.
Love, who will turn 30 in September, just completed his fourth season with Cleveland, which was swept by Golden State in the NBA Finals. That loss was followed by James leaving in free agency — for the second time in his career — to sign with the Los Angeles Lakers.
Love has been mentioned in trade speculation since arriving in Cleveland, but the 6-foot-10 big man with a guard's shooting range now becomes the centerpiece of the franchise. Love averaged 17.6 points and 9.3 rebounds last season when he made his fifth All-Star team.
Last season, Love revealed he has battled anxiety throughout his life.
Altman is charged with trying to keep the Cavaliers competitive without James, and hopes signing Love is a step toward that goal.
"This quickly became a partnership the second we began these discussions," Altman said. "Collaboration and winning matter greatly to Kevin and that was reflected in this extension. Kevin's talent and character are both at a very high level and he has earned his role at the center of what we want to do moving forward. As a five-time All-Star and NBA champion, Kevin has a special understanding of exactly what success and winning require."