Kevin Lee wins, calls out Al Iaquinta for November NYC card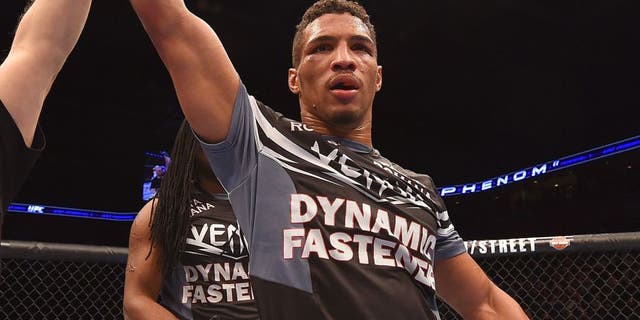 NEWYou can now listen to Fox News articles!
LAS VEGAS -- Kevin Lee snapped top-prospect Jake Matthews' two-fight win streak and created his own with a first-round TKO victory Friday. "The Motown Phenom" got in Aussie Matthews' face from the get-go and used excellent wrestling to get into position to finish the fight.
Not that Matthews would go or stay down easily. He worked well to defend and counter Lee's takedowns, though ultimately, he couldn't keep him at bay.
Late in the first round, Lee ducked under a punch from Matthews and charged in for a takedown. Matthews used a whizzer to initially defend the attempt, but Lee lifted his left up higher, to Matthews' shoulder, and then used it to come up and take the back.
From there, Lee sunk a first, then a second hook in behind and underneath a face-down Matthews. Lee secured the position and then hammered away with right punches while holding down Matthews' head with his left hand.
At 4:06 of the first round, the referee had seen enough and stopped the fight. "I can do that to anybody in the world," Lee said afterwards.
"I've just got to get out there and keep showing people."
Lee knows exactly who, where and when he wants to show that against next. "Me and Al Iaquinta have got a date, time, and a place," Lee continued, calling out the Serra/Longo team member for the Madison Square Garden UFC event in November.
Lee lost a decision to Iaquinta in February 2014. This win, however, improves Lee's record to 13-2 with the win, while Matthews' mark falls to 10-2.