Kevin Kiermaier's home run not enough for Rays in loss to Royals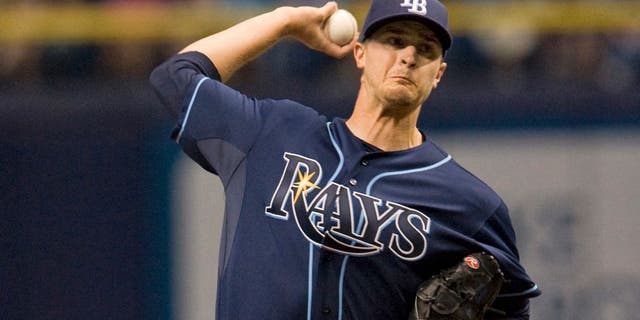 ST. PETERSBURG, Fla. (AP) -- Mike Moustakas had three hits and three RBIs, Kendrys Morales kept up his torrid two-out hitting and the AL Central-leading Kansas City Royals beat the Tampa Bay Rays 6-3 on Saturday night.
Morales had an RBI single and Moustakas a run-scoring double off Jake Odorizzi (6-7) as the Royals grabbed a 4-3 lead in the fifth. Morales leads the majors with 47 RBIs with two outs this season, breaking the team record of 46 set by Joe Randa in 2000.
Lorenzo Cain had a run-scoring single in the sixth, and Moustakas added an RBI single in the ninth.
Kris Medlen (3-0) allowed three runs and four hits over 5 1/3 innings in his second start and ninth appearance since returning from elbow ligament replacement surgery. Wade Davis, the third Royals reliever, got the last three outs for his 13th save.
Kevin Kiermaier homered for the Rays, who have lost 10 of 15. Tampa Bay has dropped all six games against Kansas City this season and 20 of 25 over the last four seasons.
Tampa Bay took a 3-2 lead in the fourth when Asdrubal Cabrera had a run-scoring single and Kiermaier hit a two-run homer.
Eric Hosmer, mired an 0-for-13 slide, and Moustakas both had RBI doubles during the top of the fourth to put the Royals ahead 2-0.
Odorizzi gave up four runs and seven hits in 4 2/3 innings. He is winless in six starts, which includes a stretch of five no-decisions where the right-hander pitched at least six innings in each game.
Rays catcher Rene Rivera appeared to get cut near around the mouth after Medlen's pitch deflected off Rivera's arm and struck his face in the third. After a brief treatment period with a team trainer near the plate, Rivera remained in the game and went to first base.
Tampa Bay loaded the bases with two outs later in the third, but failed to score when Evan Longoria struck out.
The Rays became the last team in the majors to reach 1 million in home attendance with an announced crowd of 24,372.
TRAINER'S ROOM
Royals: Manager Ned Yost said LF Alex Gordon, out since July 9 with a strained left groin, is getting close to returning. Gordon is currently on a minor league rehab assignment with Triple-A Omaha. ... OF Alex Rios was late scratch due to illness.
Rays: LHP Matt Moore should get some starts after rejoining the team next month. He was sent to Triple-A Durham Aug. 3 after going 1-3 with an 8.78 ERA in six starts following his return from elbow ligament replacement surgery. "We need Matt to pitch," manager Kevin Cash said.
UP NEXT
Royals LHP Danny Duffy (7-6) will go against Rays RHP Nathan Karns (7-5) in the finale of the three-game series Sunday.