Kevin Harvick dishes on hate mail, relationship with Mark Martin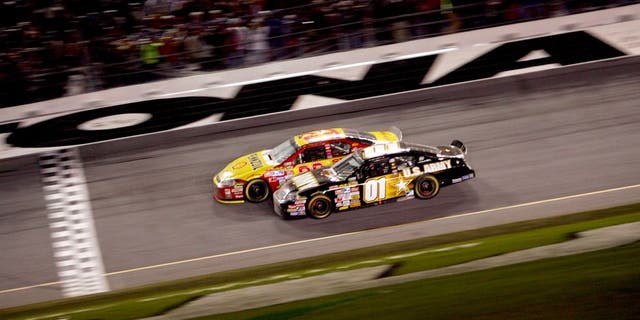 As Kevin Harvick prepares to chase his second Daytona 500 win, the Stewart-Haas Racing driver can't help but reminisce on the fond memories of his first and only victory to date in The Great American Race.
That victory came in 2007 when Harvick nipped veteran driver and longtime sentimental favorite Mark Martin by a scant two one-hundredths of a second -- or about four feet -- at the finish line.
Harvick, who was driving for Richard Childress Racing back then, confesses he's watched the replay of the thrilling finish more times than he can even recall.
"It still gives me goose bumps every time I see it happen because it's just one of those moments where you didn't really expect to be in that position with everything that had happened 12 or 15 laps before that," Harvick, who snatched the lead away from Martin on the final lap after Martin had spent 26 consecutive laps out front, told FOXSports.com during Tuesday's NASCAR Media Day at Daytona International Speedway.
"I think as you see everything unfold and you see it coming to the line and winning the race, you go back to remembering what it was like inside of the car and how excited you were and all the things that you got to do the next week that were pretty neat. It's hard to put any race together, let alone this one. There's just so many things that have to go your way."
Harvick led just four of the race's 200 laps, and needed a little luck on his side, too, as NASCAR opted to let he and Martin race to the finish line rather than freezing the field as drivers crashed behind them.
"I think that year was a year that you probably didn't have the car to win and I can think of a few years where you felt like you had the car to win and you didn't win because of something going wrong," Harvick said. "So you never know when it's all going to line up. You've just got to keep plugging away and try to keep yourself in contention."
If NASCAR hadn't allowed the two to race back to the line, Martin would have finally captured the Daytona 500, doing so in his 23rd try. Instead, the widely beloved driver from Batesville, Arkansas suffered arguably the toughest defeat of his up-and-down career, which ended in 2013 with 882 top series NASCAR starts but no Daytona 500 trophy.
So how much hate mail did Harvick receive from Martin fans after denying their man a win that would that would've been embraced by virtually everyone in the sport?
"I get hate mail from just about everybody's fans," Harvick said with a laugh. "That usually means that things are going OK. The more they're hating on you, probably the better that you're doing. I've definitely learned that over the last couple years. I'm a huge Mark Martin fan, too. Seeing him have the opportunity to win the Daytona 500 and not have it all play out there in the last couple hundred yards definitely could have been a life-altering moment for him, but it was for us, too, so somebody has to be the bad guy, but in the end it's still definitely the biggest race I've ever won."
Now nine years after their memorable duel, Harvick and Martin stay in touch and are actually close friends.
And they still discuss their epic Daytona 500 battle.
"It's not something that we don't talk about," Harvick said. "I think as you look at Mark, Mark is one those guys that probably doesn't get enough credit for what he has done for the sport. Just a lot of those guys don't, because of the grind and the things they went through to make their racing career what it was.
"The last time I talked to him was probably two weeks ago and I told him, 'Dude, you need to come around more.' And he's like, 'Well, sometimes I don't know if I'm wanted or not wanted.' And I told him, 'You call me anytime. I'm always up for a conversation with you,' because he's always got a great story and he's been a huge part of the sport."
While Harvick can't recall the particulars of the earliest discourse that he and Martin had after their 2007 Daytona 500 showdown, the 2014 Sprint Cup champion has a pretty good idea of how it went.
"I don't remember exactly where the first conversation about that was, but I'm sure in typical Mark Martin fashion he just looked down and shook his head," Harvick said.