Kevin Harvick 'disgusted' with top-five New Hampshire finish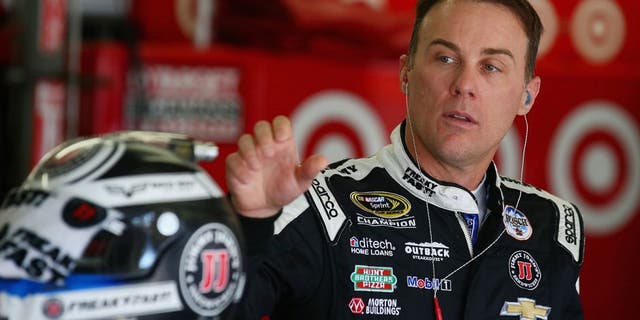 NEWYou can now listen to Fox News articles!
You would think any driver would be happy with a top-five finish after a wild ending to Sunday's NASCAR Sprint Cup Series race at New Hampshire Motor Speedway, which saw three cautions in the last 30 laps.
But, that's not the case for Kevin Harvick.
After bringing his No. 4 Stewart-Haas Racing Chevrolet home in fourth at the Magic Mile, Harvick was not pleased.
"I'm disgusted to tell you the truth," said Harvick after the disappointing result. "It's the same thing every week. We just make mistake after mistake, and until we clean that up, we don't have a chance to win races by putting ourselves in a hole every time we make a mistake."
Minus a 39th-place finish in the Coke Zero 400 at Daytona International Speedway, Harvick hasn't finished outside the top 10 since Dover International Speedway in May where he finished 15th.
But in Harvick's eyes, those results could have been even better if the team reduced their mistakes.
"It sucks because the cars are plenty fast, but we are just not executing," added Harvick. "We just have to perform better. We under execute as a team on a weekly basis and got to do a better job. The Jimmy John's Chevrolet cars are always fast, but we always do something wrong."
Harvick's only victory of the season came at Phoenix International Raceway, but that was back in March.
He currently has a 14-point lead over Team Penske's Brad Keselowski in the standings with seven races to go before the Chase for the Sprint Cup begins.
But if the 2014 Sprint Cup champion and his team want a shot at another title, Harvick says changes will need to be made in order to stop the recent trend.
"It's really going to have to come from the top," said Harvick. "I mean they (the team) are going to have to clamp down. There is no way we can win a championship like this unless they straighten some of this stuff out."