Kevin Durant's free-agent plans aren't nearly as bold as they were last summer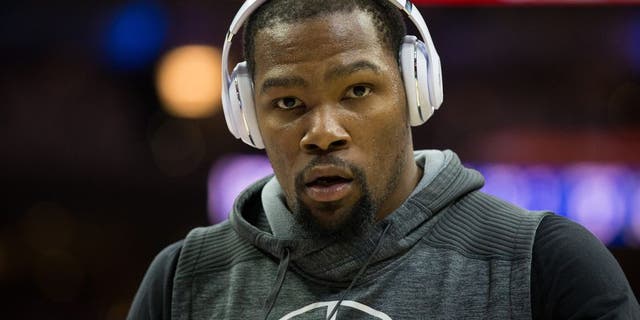 NEWYou can now listen to Fox News articles!
Kevin Durant signed a two-year contract with the Golden State Warriors during last summers biggest-by-far offseason move, so its lost on many folks that he can and probably will be a free agent again this summer.
Durant has a player option for 2017-18 and has never denied he will do the smart thing and opt out to get a better deal this offseason, but dont mistake financial smarts for any sign his wavering on his decision to be part of the Warriors long-term plans. He told the San Jose Mercury News on a Thursday podcast that hes staying put:
Obviously, Im thinking about the playoffs right now. Havent even thought about it that much. But I dont plan on going anywhere else.
You want to keep this group together. We want to see how far we can go with this thing. Im sure once the seasons over with, well figure that stuff out, everybody. Im sure itll all work out for the best.
Before then, Durant and the Warriors have the little matter of trying to win the NBA title on the front burner. They enter the playoffs as the top seed in the Western Conference and will host the Portland Trail Blazers in Game 1 on Sunday. Durant played in the final three games of the regular season after missing 19 with a knee injury and finished the year on a high note with 29 points in 27 minutes last Wednesday.