Kevin Durant, Warriors beat Spurs 120-108, take 3-0 lead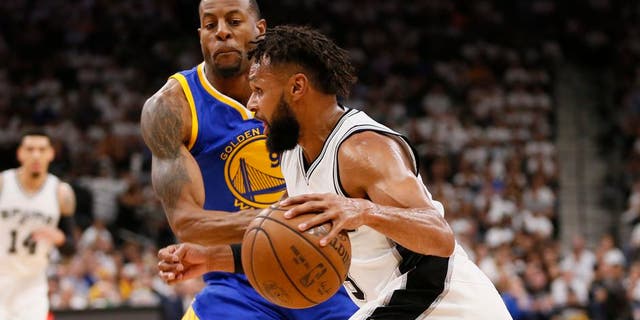 SAN ANTONIO (AP) -- Kevin Durant had 33 points and 10 rebounds and the Golden State Warriors beat the injury-riddled San Antonio Spurs 120-108 on Saturday night to take a 3-0 lead in the Western Conference Finals.
Golden State has a chance to complete its third straight series sweep in Game 4 on Monday night. The Warriors are the third team in NBA history to win their first 11 playoff games. Cleveland is 10-0, with a 2-0 lead over Boston in the Eastern Conference final.
Stephen Curry added 21 points and became the franchise leader in postseason points, passing Hall of Famer Rick Barry.
Already without leading scorer Kawhi Leonard and starting point guard Tony Parker, the Spurs lost David Lee to a left knee injury in the opening quarter.
Lee left with 2:57 remaining in the first, unable to put any weight on his left leg after Draymond Green kneed him in the back of the leg on a drive. Joel Anthony had to take a free throw in place of Lee, who was taken to the locker room in a wheelchair. Lee's status is unknown.
San Antonio still managed to match a postseason high with 33 points in the opening quarter and lead by as many as six points in the first half.
The Spurs played on emotion, but eventually succumbed to the Warriors' firepower.
Durant had 19 points in the third quarter.
Golden State shot 55 percent from the field and was 11 for 27 on 3-pointers.
Klay Thompson had 17 points, and Javale McGee added 11 points, including 11 in the opening quarter for the Warriors.
Manu Ginobili led the Spurs with 21 points, joining Hall of Famer Kareem Abdul-Jabbar as the only players 39-years-old or older to score 20-plus points in a conference final.
LaMarcus Aldridge had 18 points on 7-for-17 shooting after stressing it was imperative for him to score following Leonard's injury.
San Antonio has been outscored by 73 points since Leonard left Game 1 with 7:52 remaining and the Spurs leading 78-55.
TIP-INS
Warriors: Curry has 1,774 career postseason points in 69 games to set the franchise record. Barry previously held the franchise record with 1,776 points in 66 games. … Zaza Pachulia missed the game and was not on the bench after bruising his right heel during the first quarter of Game 2. … Andre Iguodala had two points in 19 minutes after sitting out Game 2 because of a sore left knee. … Kevon Looney (left hip strain) has not played in the postseason. Looney played 53 games in the regular season, including four starts.
Spurs: San Antonio coach Gregg Popovich opted to sit Leonard after conferring with the team's medical staff, but it wasn't a decision his All-Star forward agreed with. "In the end, I guess it's my decision," Popovich said. "He's not thrilled he's not playing, but he's not ready." … The Spurs are 1-2 in the postseason without Leonard and were 7-1 in the regular season without their leading scorer.