Kevin Durant says Lonzo Ball, other top talents are smart to skip the NBA Draft combine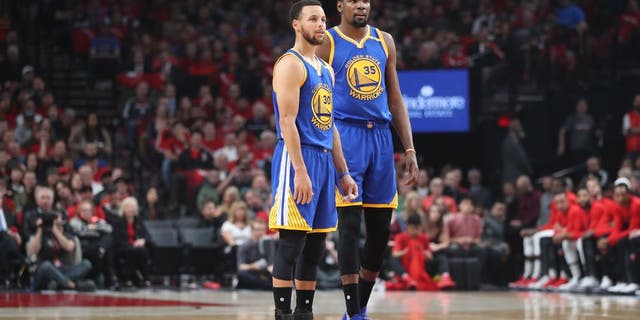 Lonzo Ballis skipping the NBA Draft combine underway in Chicago this week and Kevin Durant thinks it's the right play for the potential No. 1 pick out of UCLA.
The Golden State Warriors starstill remembers his own experience at the combine, where heinfamously was unable to do a single 185-pound bench press.
As embarrassing as that was, Durant just doesn't see the point. He sounded off about it in an interview with ESPN at a Warriors practice on Wednesday.
"I remember it like it was yesterday," Durant said, as he readjusted his body to get comfortable in his seat. "All the strength coaches were laughing at me and s -- . They were giggling with each other that I couldn't lift 185 pounds, and I was like, 'All right, keep laughing. Keep laughing.' It was a funny thing, because I was the only one that couldn't lift it and I was struggling to lift it. I was embarrassed at that point, but I'm like, 'Give me a basketball, please. Give me a ball.' "
Well, he went second overall that year to the then-Seattle Supersonics and got his chance to show what he could do when they gave him a ball.
Durant averaged 20.3 ppg in his debut season, taking home Rookie of the Year honors. All he's done since then is make eight Al-Star teams and win the 2014 MVP award.
Meanwhile, the guy who went before him -- Greg Oden to the Portland Trail Blazers -- blew Durant out of the water at the combine that year. The big man skipped the bench press because of a wrist injury (andsurely would have put up at least one rep), but put up better numbers than Durant at several other drills.
Oden played 105career games, last making a brief comeback bid with the Miami Heat in 2014.
More from Durant recalling his experience:
"I knew nobody in that draft could guard me one-on-one," he said with the utmost confidence. "I knew that for sure. I knew that. And I knew that you don't need to [bench-press] to lift a basketball up. And I knew that this wasn't football, where that stuff matters. I knew as a basketball player I had a lot of skill, more skill than anybody in the draft. And I knew that if I worked as hard as I could, then that s -- wouldn't matter at the end of the day. It still doesn't matter. I was ranked the last person in camp, drills-wise. I was the worst player, and the first player didn't get drafted. That tells you a lot about the significance of that s -- ."
And on being passed over for Oden:
"I figured they knew who they were going to draft already," he said. "But that says a lot, as well. I was the No. 2 pick and I couldn't lift 185 pounds. That shows you that basketball isn't really that type of sport."
Yeah,we're thinking Durant might have a point here.
Chris Nicoll-USA TODAY Sports | Chris Nicoll