Kevin Durant says Lakers rookie Brandon Ingram is 'like I'm looking in the mirror'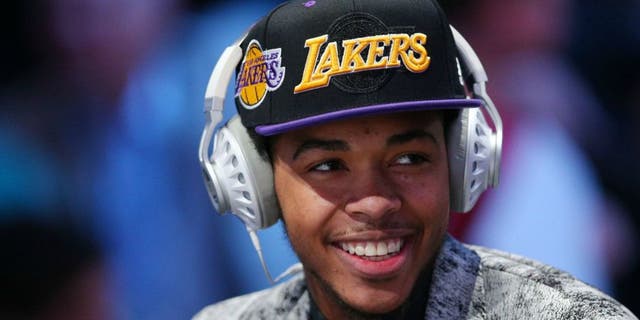 NEWYou can now listen to Fox News articles!
The comparisons have been impossible to escape for Los Angeles Lakers rookie Brandon Ingram. The ultra-thin sharpshooter from Duke has heard the similarities to Warriors superstar Kevin Durant.
Now, Ingram can hear them from Durant, himself.
"First person I can say, that I can look at him and feel like I'm looking in the mirror," Durant said Tuesday when asked about Ingram after Team USA practice.
Durant is getting his first up-close look at Ingram, who got to face off against the four-time scoring champ Tuesday while a member of the USA Select Team.
The similarities are difficult to ignore. Ingram's slight build -- 6-9, 190 pounds -- is eerily reminiscent to that of Durant, who was listed at 6-9, 215 pounds when he starred at Texas. The Lakers are working hard to beef up Ingram's frame, hoping he matches Durant's current weight of 240 pounds as soon as possible.
Durant's combination of size and shooting ability is unmatched in today's game, displaying skills similar to a guard in a forward's body. Ingram showed those same tendencies during his one season at Duke, shooting 41 percent from deep while also breaking down defenders on the perimeter.
The Lakers struck out this summer in trying to land Durant but they might have the next best thing in Ingram, whom they took with the second pick in this year's draft. It's probably just a coincidence that Durant was also taken with the second pick in 2007, right?