Kevin Durant defends Greg Oden, refutes notion that Oden was a 'bust'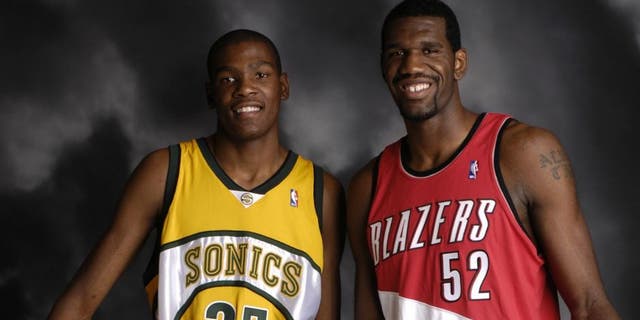 Greg Oden, the NBA's No. 1 draft pick in 2007 who now serves as a student-assistant for the Ohio State Buckeyes, said last week that he believes he will be remembered as the biggest bust in NBA history, especially when compared to Warriors superstar Kevin Durant, who was selected with the No. 2 pick after Oden.
Durant, for one, thinks that's "nonsense."
The former Sonics star said Sunday that Oden can't be judged as a bust because his knee injuries kept him from ever playing to his potential.
Via ESPN:
"In order for you to be a bust, you have to actually play and show people that you progressed as a player. He didn't get a chance to.... He didn't want to get hurt. That was the last thing he wanted to do was to get hurt. That wasn't even in the cards, and he got injured and that was unfortunate. But when he did play, he was a force. Protecting the paint. They were so good with him and LaMarcus [Aldridge] down low, with Brandon Roy [and] Andre Miller at the time."
Oden missed what would have been his rookie year after undergoing microfracture surgery, and was injured again in his NBA debut. He played a total of 82 games over two seasons for the Blazers, and in his second year he was averaging a respectable 11.1 points and 8.5 rebounds in just 24 minutes a game before a fractured patella ended his year.
The numbers also back up Durant. While Oden had a much shorter career, he was statistically a better player than other high-profile "busts" like Anthony Bennett or Kwame Brown.