Kessel leads NHL's 'Three Stars of the Week'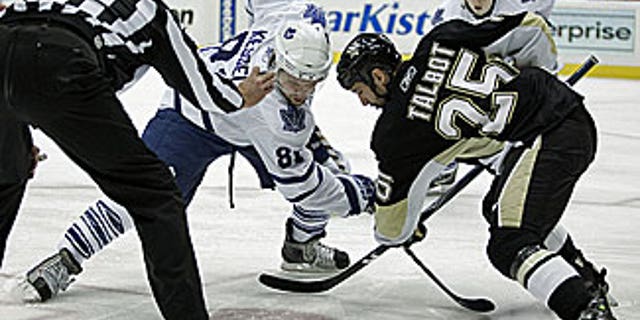 NEW YORK -- Toronto Maple Leafs right wing Phil Kessel, Chicago Blackhawks goaltender Corey Crawford and Columbus Blue Jackets left wing Matt Calvert have been named the NHL's 'Three Stars' for the week ending Feb. 27.
FIRST STAR -- PHIL KESSEL, RW, TORONTO MAPLE LEAFS
Kessel led the NHL in scoring last week with eight points (four goals, four assists) in four games as the Maple Leafs (27-27-9) earned six of a possible eight points. Kessel began the week by tallying the game-winning goal in a 2-1 victory over the New York Islanders Feb. 22. He tied a career high with four points (two goals, two assists) in a 5-4 victory over the Montreal Canadiens Feb. 24, registered two assists in a 6-5 shootout loss to the Pittsburgh Penguins Feb. 26 and notched another goal in a 3-2 overtime loss to the Atlanta Thrashers Feb. 27. Kessel has recorded 11 points (seven goals, four assists) in his past seven games from Feb. 15-27. He leads the Maple Leafs in goals (26), power-play goals (10) and shots (267), and ranks second in points (47) and game-winning goals (four).
SECOND STAR -- COREY CRAWFORD, G, CHICAGO BLACKHAWKS
Crawford posted a 3-0-0 record, 1.95 goals-against average, .936 save percentage and one shutout, helping the Blackhawks (33-23-6) capture maximum points in the ultra-tight Western Conference playoff race. Crawford stopped 88 of 94 shots last week, beginning with a 31-save performance in a 5-3 victory over the St. Louis Blues Feb. 21. He recorded 31 saves in notching his fourth career shutout, a 3-0 win over the Nashville Predators Feb. 24, and stopped 26 shots plus all three shootout attempts in a 4-3 win over the Phoenix Coyotes Feb. 27. Crawford has stopped seven consecutive shootout attempts, and 11-of-13 overall this season. His .846 save percentage in the shootout is the fifth-best mark among NHL netminders who have faced 10-or-more attempts. The 26-year-old Montreal native improved his season record to 22-12-3 with a 2.13 goals-against average and .923 save percentage in 37 games.
THIRD STAR -- MATT CALVERT, LW, COLUMBUS BLUE JACKETS
Calvert scored a League-leading five goals last week as the Blue Jackets (31-24-6) won two of three starts. He scored one goal in a 4-0 win over the Nashville Predators Feb. 22 and became the second rookie in club history to record a hat trick in a 5-3 win over the Phoenix Coyotes on Feb. 25. He tallied the game-winning goal, notched an assist, fired seven shots on goal and posted a +2 rating as the Jackets overcame a 2-0 Phoenix lead. Calvert concluded the week with another goal in a 3-2 loss at Nashville Feb. 27. The 21-year-old Brandon, Manitoba native has recorded 14 points (10 goals, four assists) in 21 games since being recalled from the AHL's Springfield Falcons and is riding four-game point and goal streaks (6-2--8).