Kesler finds his scoring touch at the right time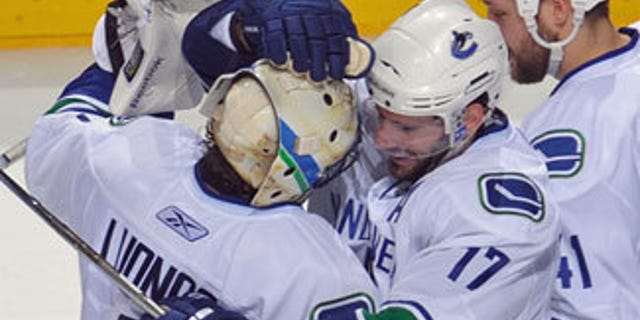 NASHVILLE, Tenn. – Ryan Kesler had to be wondering where his scoring touch had gone.
Kesler had 41 goals during the regular season, but he had gone through the Vancouver Canucks' first nine playoff without turning on the red light.
However, all that changed on Tuesday night. Kesler got off the schneid with a second-period power-play goal, then connected 10:45 into overtime during another power play to give the Canucks a 3-2 win against Nashville and a 2-1 series lead in the Western Conference Semifinals.
Afterwards, he spoke with the media:
Q: What happened on the game-winning goal you scored?
A: I just had to get out of the way there, but it was a great shot and for us we worked hard enough. We were the harder-working team tonight, and we deserved that win.
Q: You had outshot them for most of the game and you didn't have much luck until you went into overtime.
A: That's what we got to do. We got to throw a lot of pucks at net. We got to crash the net. We got to screen him. That's a good goaltender over there and we've got to do all those dirty things to get goals.
Q: You dominated in regulation and gave up the late goal. What does it say about your team to have that resiliency to come back and win?
A: We've done it all year. It's unfortunate the last couple of games we've let in some unlucky goals, but we battled back again. I thought even last game we fought hard in overtime. We just got unlucky there at the end. Good to get this one and good to go up 2-1.
Q: The power play scored two goals tonight after not scoring in the first two games of the series.
A: It was great. It was good to get our play going again. It's not been struggling but we haven't been scoring. It's good to get a couple and get the confidence back.