Kershaw strikes out 14, Dodgers beat Cubs in series opener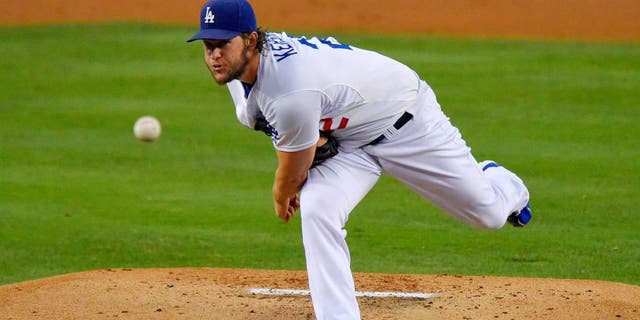 LOS ANGELES -- Clayton Kershaw struck out a season high-tying 14 to win for the first time in three outings and the NL West-leading Los Angeles Dodgers beat the Chicago Cubs 4-1 Friday night in the series opener.
Kershaw (11-6) allowed one run and three hits in eight innings. He walked one in the Dodgers' first home game in two weeks.
Kenley Jansen pitched the ninth to earn his 26th save in 28 chances.
Kershaw allowed a run for the first time in 31 1/3 innings at home -- the longest such streak in the majors this season -- in the fourth on Anthony Rizzo's 26th homer that tied it at 1-all.
Kershaw got back on the winning track after the Dodgers wasted two gems by the left-hander: 10-inning walk-off losses in Oakland on Aug. 18 and in Houston last Sunday.
The Cubs fell to 5-3 against former Cy Young Award winners this season. They beat Kershaw 4-2 in Chicago on June 22.
Jason Hammel (7-6) gave up three runs and four hits in five-plus innings. The right-hander struck out five and walked three.
The Dodgers capitalized on the Cubs' pitching breakdowns in the sixth, scoring three runs to take a 4-1 lead.
Chase Utley scored in his first home game for the Dodgers and Adrian Gonzalez was safe at second base on a throwing error by catcher Miguel Montero, putting Los Angeles ahead for good, 2-1.
Pinch-hitter Scott Van Slyke grounded into a double play, scoring Gonzalez. They added another run on Kike Hernandez's RBI single.
Utley's triple to deep center field gave the Dodgers a 1-0 lead in the third.
TRAINER'S ROOM
Dodgers: RF Yasiel Puig went on the 15-day DL with a strained right hamstring, the same problem that caused him to sit out on Aug. 19 at Oakland. At that time, it was described as a ''mild strain.'' Now, manager Don Mattingly said the injury Puig sustained in the ninth inning Thursday at Cincinnati is ''not very mild.'' Puig was on the DL from April 26-June 6 with a left hamstring strain.
UP NEXT
Cubs: LHP Jon Lester (8-9, 3.44 ERA) makes his first road start since July 18 at Atlanta. He is 1-1 with a 3.97 ERA in two starts against the Dodgers this season. He fell one out short of a complete game shutout in his previous start at Cleveland on Aug. 24, allowing the game-tying run with two outs in the ninth.
Dodgers: RHP Mat Latos (4-9, 4.81) will start for the first time since Aug. 13, when he allowed five runs (four earned) and seven hits in 4 2/3 innings against Cincinnati. He last faced the Cubs on July 5 with the Marlins, allowing one run and one hit in seven innings in a 2-0 loss.