Kenyan Drake's diving touchdown from NCG is recreated into artwork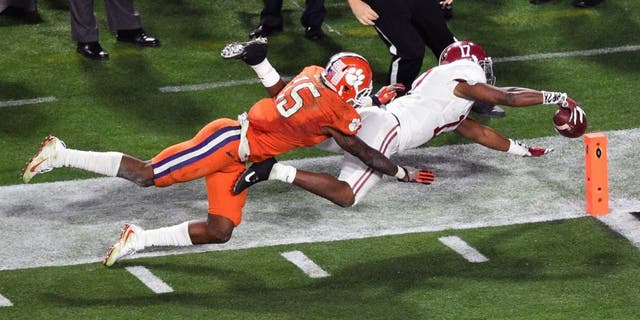 Alabama football fans now have the chance to purchase an emblem of the program's rich history -- in the form of artwork.
Famed artist Daniel Moore recreated the iconic picture of Alabama running back Kenyan Drake diving for the end-zone during the National Championship victory over Clemson. Drake just barely dove over the pylon for the 95-yard kickoff return for a touchdown.
Titled "Finish," Moore posted a picture of the preliminary drawing on his Twitter. A print can be purchased from Moore's website, in addition to the inclusion of Drake's signature on the piece of art.
Known for producing many famous moments in sports, Moore spoke about why he selected this exact moment, saying "I wanted to create a painting of the 2015 CFB Championship Game that expresses that one-word minset in a single image. But for me, Kenyan Drake's kickoff return is the one play that represents and encapsulates the spirit, heart, and determination to 'Finish.'
If the Crimson Tide continues on its current trajectory as a football program, Moore surely will be making more Alabama-centric artwork in the future.