Kentucky's frosh could end wild season where they began - at the top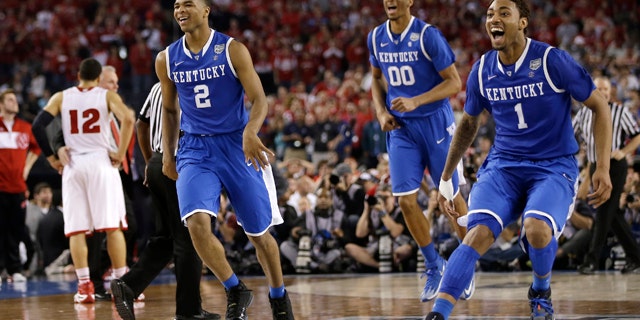 Kentucky began the season atop the polls, and with a win tonight, can finish in the same position. But in between, John Calipari's team has been on a wild ride.
When the Wildcats tip off against Connecticut (31-8) tonight at 9:10 p.m. ET in AT&T Stadium, in Arlington, Texas, the biggest question is which of the two storied programs is the more unlikely championship contender. It will be the first time in 48 years that both teams in a final were not even in the NCAA the previous year.
[pullquote]
The Wildcats (29-10) became the first pre-season No. 1 to ever fall completely out of the top 25. They lost their regular-season finale to Florida by 19 points. They limped into the NCAA tournament as an eighth seed, and even that may have been more on reputation than performance.
"Calipari has a ring and has done perhaps his best coaching job in getting this initially undisciplined team to the title game," wrote USA Today basketball writer Scott Gleeson.
But when the tournament began, Kentucky's all-freshmen starting lineup grew up quickly. They defeated Kansas State in the first round, 56-49. In the second round, they handed Wichita State its only loss of the season, with a 78-76 nail-biter. Then came a five-point defeat of in-state rival Louisville before a 75-72 win over No. 2 seed Michigan and a one-point buzzer-beater against another No. 2 seed, Wisconsin, put them in the final.
That Calipari is a great coach is no secret. His only problem has been that he is perhaps too good of a recruiter. He brings in class after class of decorated, five-star recruits, only to see them play one season and move on to the NBA.
"The connotation that's been built around 'one and done' is so ridiculous in making it a bad thing, a negative thing," Calipari told reporters earlier this week. "The thing we've been talking about is 'succeed and proceed.' Succeed (at the college level) and then proceed (to the pros). It will be on T-shirts: 'Succeed and Proceed.' "
But while he wishes his players well when they move on after brief stints in Lexington, he also supports new NBA Commissioner Adam Silver's plan to make an age requirement of 20 for players entering the NBA draft. In most cases, that would leave players in college for at least two years.
But after a roller-coaster season, the Kentucky version of Fab Five – twins Andrew and Aaron Harrison in the backcourt and James Young, Dakari Johnson and Julius Randle up front – is experienced enough to give Calipari a shot at his second title in three years.
The Huskies, under second-year coach Kevin Ollie, are hoping to win their second NCAA title in four years. They were ineligible for the tournament last year, but three seniors remain from that championship team under longtime coach Jim Calhoun.