Kentucky Wildcats Wins NCAA National Championship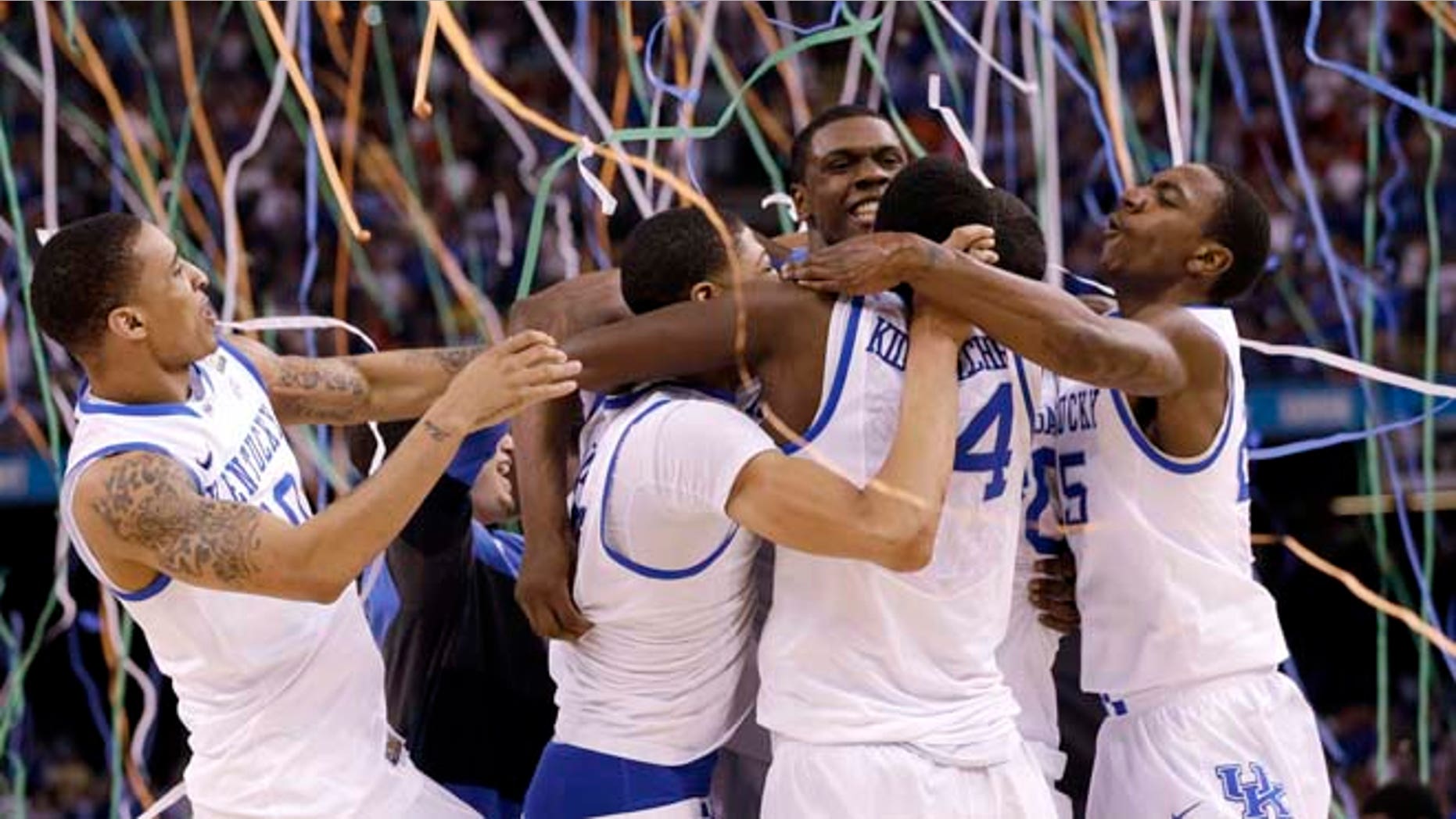 He finally did it.
John Calipari has finally added a championship to his resume.
Despite a rough shooting night by the best of Kentucky's talented freshmen, Anthony Davis, the Wildcats defeated Kansas 67-59 on Monday night to win their eighth national title, and first since 1998.
Davis, who might have had the most dominating six-point night in the history of college basketball, earning the nod as the most outstanding  player. Midway through the first half, he was scoreless but still on pace for a triple-double. He finished with 16 rebounds, six blocks, five assists and three steals — and made his only field goal with 5:13 left in the game.
Kansas and Kentucky Advance to Title Game 
It was a surefire illustration of how the 6-foot-10 freshman can exert his will on a game even on a rare night when the shot isn't falling.
"I love the fact Anthony Davis goes 1 for 10, and you all say he was biggest factor of game," Calipari said. "He was 1 for 10. I asked these guys what they would do without scoring. You have an idea what he does."
Over the next few weeks, Davis will decide whether to return to college — unlikely — or head to the NBA, where he'll probably be the top pick. Kidd-Gilchrist could go second.
Kansas (32-7) also has a lottery pick in AP All-American Thomas Robinson. He was harassed all night by Davis and Terrence Jones and finished with 18 points and 17 rebounds on a 6-for-17 shooting night. He was huge in the second half, while the Jayhawks were making one of those desperate comebacks that have become their trademark this year. This time, KU trimmed Kentucky's lead to five with 1:37 left. But the Wildcats made five free throws down the stretch to seal the win.
"It (stinks) that we have to be down 14 before we want to start fighting," KU guard Tyshawn Taylor said. "Guess that's kind of what happened."
So, the Jayhawks settled for the "B'' League title this year, as Calipari avenged a final-game loss to Bill Self back in 2008 when Calipari was coaching Memphis. The Tigers missed four late free throws in blowing a nine-point lead in that one. Kansas didn't get any such help this time.
Calipari last season not only coached the Wildcats but also coached the Dominican Republic, trying to revitalize their basketball program.
It's not known whether the Dominican Republic  team will have Calipari and his coaching staff back this upcoming season.
With Calipari at the helm, the team has a good chance of success. Calipari helped the D.R. win the bronze medal last summer in the FIBA Americas Championship.
Even with the loss, it wasn't a bad season in Lawrence,KS considering where KU began.
Kansas lost four of its top five scorers off last year's roster. There were times early in the season when Self and his old buddy and mentor, Larry Brown, would stand around at practices and wonder if this was a team that could even make the tournament. It did. Won its eighth straight conference title, too.
"Nobody even expected us to be here in the first place, for us to have a great season," KU guard Travis Releford said. "And we did. We were able to compete for a championship. We had a great year."
Kentucky's was better, and Davis certainly did nothing to hurt his draft stock despite missing more shots in this game than he had in the last three.
He set the tone early on defense, swatting Robinson's shot twice, grabbing rebounds, making pretty bounce passes for assists.
Early in the second half, he made a steal that also could have been an assist, knocking the ball out of Robinson's hands and directly to Jones, who dunked for a 46-30 lead.
Then, finally. With 5:13 left in the game, he spotted up for a 15-foot jumper from the baseline that swished for a 59-44 lead, putting a dagger in one of Kansas' many comebacks.
"He was terrific," Self said. "The basket he made was one of the biggest baskets of the game."
His only bucket of the game — could that be a different sort of spin on "one and done?"
Well, if Davis does choose to leave, Calipari can certainly handle it. He has mastered the art of rebuilding on the fly.
He's the coach who brings in the John Walls, Brandon Knights and Derrick Roses (at Memphis) for cups of coffee, lets them sharpen up their resumes, then happily says goodbye when it becomes obvious there's nothing left for them to do in school.
The coach refuses to apologize for the way he recruits or how he runs his program. Just playing by the rules as they're set up, he says, even if he doesn't totally agree with them. Because he refuses to promise minutes or shots to any recruit and demands teamwork out of all of them, he says he comes by these players honestly.
He has produced nine first-round picks in the last four drafts, including five in 2010. That draft day was as big a moment for the school as any, Calipari said. A pretty big statement for the program built by Adolph Rupp.
"The reason was, I knew now that other kids would look and say, 'You've got to go there,'" Calipari said.
This latest group came and won it all.
"I wanted that," Calipari said. "I told them I wanted this to be one for the ages."
Based on reporting by the Associated Press.
Follow us on twitter.com/foxnewslatino
Like us at facebook.com/foxnewslatino