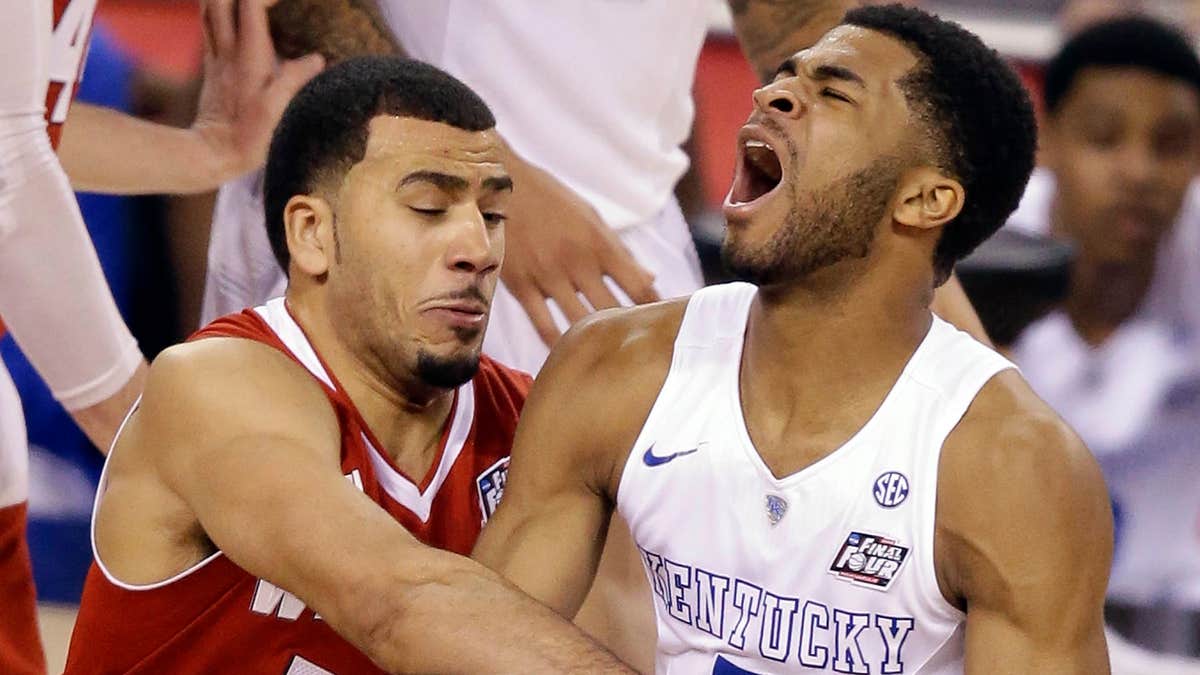 Kentucky men's basketball player Andrew Harrison apologized Sunday for directing an obscenity and a racial slur at Wisconsin's Frank Kaminsky during a postgame press conference.
Harrison muttered "F--- that n----" into a live microphone when another player was asked a question about Kaminsky after Kentucky lost 71-64 to the Badgers Saturday. The loss ruined the Wildcats' undefeated season.
Harrison said on Twitter that he wanted to apologize "for my poor choice of words used in jest towards a player I respect and know." He said the two of them had a "good conversation" and he wished him good luck in Monday's championship game.
Harrison's comment came as a reporter asked Kentucky's Karl-Anthony Towns about defending the 7-foot Kaminsky. He muttered it with his hand in front of his mouth, but the mic picked up the comments.
"Karl, could you talk about Kaminsky and what if anything is unique about defending him?" the reporter said.
The comment started a firestorm on social media as many were asking what Harrison said accompanied by video clips of his response.
Harrison was sitting at the interview table with his brother, Aaron, to his left and forward Willie Cauley-Stein directly to his right.
Kentucky plans to speak with Harrison on the matter.
''We have no comment until we have had a chance to evaluate it," Kentucky spokesman Eric Lindsey said.
Kaminsky led the Badgers with 20 points and 11 rebounds in the comeback victory against Kentucky.
Wisconsin will play Duke in the NCAA championship game Monday. Duke defeated Michigan State earlier Saturday, 81-61.
The Associated Press contributed to this report.