Kentucky Derby 2.0: Horse racing's $12 million wager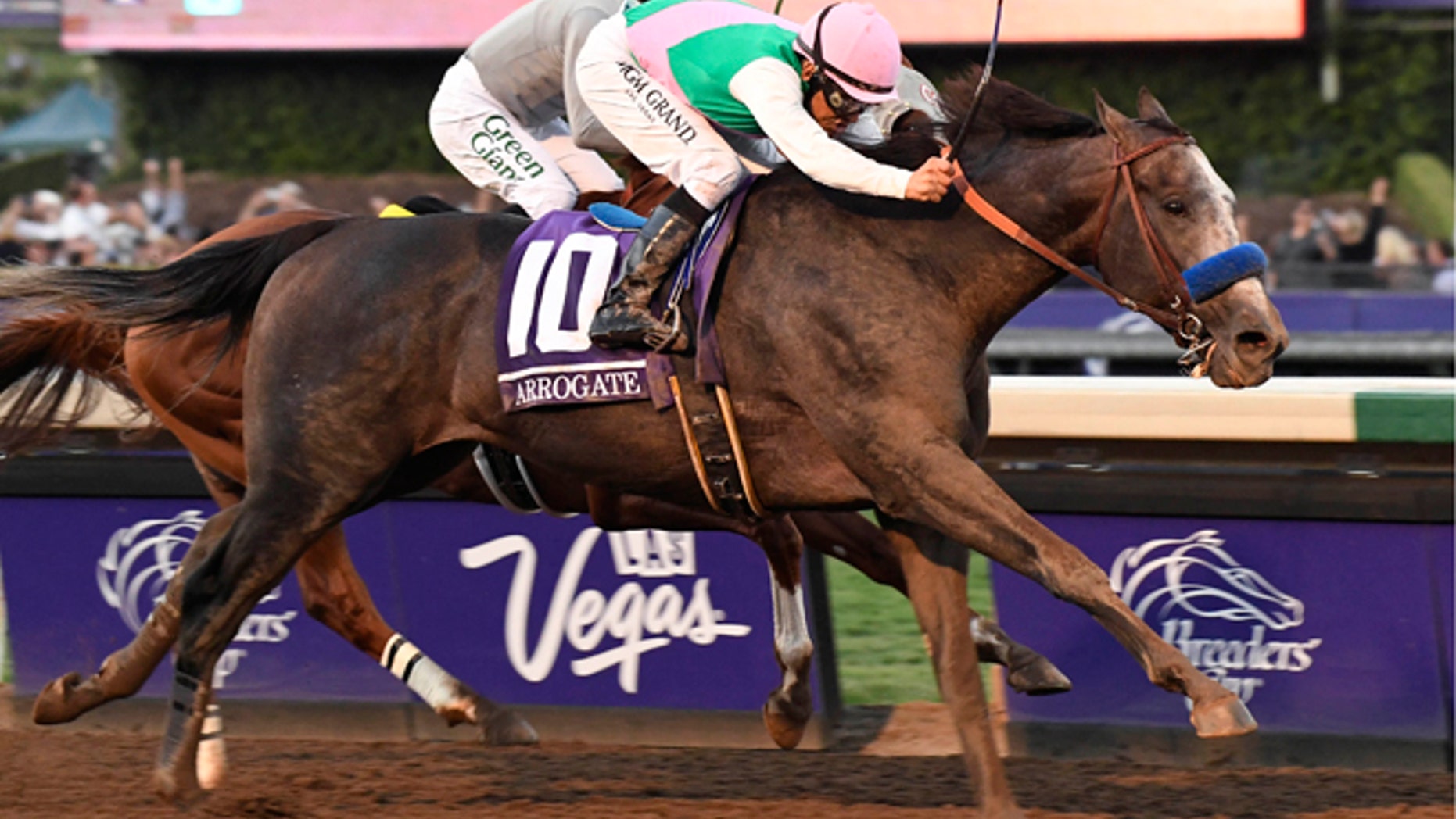 Florida's Gulfstream Park next month will host a new race with the world's largest purse in thoroughbred racing: the $12 million Pegasus World Cup Invitational, run on dirt at 11/8 miles.
But while the winnings are record-setting, the outsized purse isn't the only thing about the Jan. 28 race that has set the racing world abuzz. The twist is in how the purse is funded, which has set off an international scramble to get in the gate.
Instead of coming from the track's coffers, the $12 million is being put up by 12 entrants who paid $1 million each. The concept harks back to basics: Putting up cash for my-horse-is-faster-than-yours bragging rights.
Not all of these stakeholders have horses to enter. The $1 million buys only a stall in the starting gate, a space that can be leased, contracted, shared or sold.
The matter of acquiring an actual horse to enter has given rise to an unusual global matchmaking game, with stakeholders, some of whom are longtime leaders in racing who don't happen to have the right horse, flirting with owners who do.
"I've received six calls and my trainer received one," said Paul Pompa, whose horse Connect won the Pennsylvania Derby and as yet has no stall. "These are calls from respected horsemen."
The gambit has attracted people like longtime race fan Dan Schafer, a 33-year-old entrepreneur who owns pizza shop franchises in the Midwest and a free daily fantasy sports site. He purchased a spot in the gate without so much as a horseshoe because he saw the race as an innovative way to be involved in racing—rather than the well-trod path of buying a young horse and praying it has Kentucky Derby potential.
"I believe in the industry," he said. "To grow the sport, we need to grow the fan base. There are a lot of skeptics, but skeptics are going to be our biggest watchers."
The race is the brainchild of Frank Stronach, the billionaire founder of the Canadian auto-parts supply empire Magna International Inc.
The Stronach Group, founded in 2011, controls wagering platforms and premier tracks, including Gulfstream, Southern California's Santa Anita Park and Baltimore's Pimlico Race Course, home to the Preakness Stakes, the second leg of the Triple Crown.
Skeptics are loath to criticize the race publicly so as not to run afoul of Stronach. But the race has raised eyebrows among some who say the race puts owners' egos and bank accounts ahead of horses, who may wind up racing against competition above their class.
During a recent interview, perched in a box high above Southern California's famed Santa Anita Park, Stronach defended the strange new marketplace that Pegasus has given rise to.
"Nobody has to buy a share," he said. "It's a free market. If you haven't got the right horse, you can look around. You might have people with the right horse. You could make deals."