Kenseth will race on with new sponsor Circle K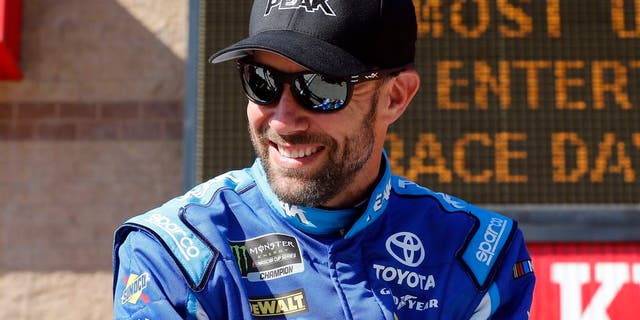 NEWYou can now listen to Fox News articles!
Matt Kenseth is not retiring now.
Hes not retiring at the end of this season.
He doesnt spend a lot of time thinking about retirement.
Or as he put it Wednesday afternoon, If Tom Brady can play football at 40 and still win Super Bowls, I think 45 is pretty young to try and win races.
Kenseth was at the NASCAR Hall of Fame Wednesday afternoon as a key part of an announcement that Joe Gibbs Racing had inked a new sponsor, Circle K.
The convenience store chain has signed a multi-year deal to be Kenseths primary sponsor of the No. 20 Joe Gibbs Racing Toyota for six races per year, starting at Richmond. Circle K will also be Kenseths primary sponsor at the spring Talladega and Charlotte races, Kentucky in the summer and Texas and Phoenix in NASCARs playoffs.
The company will also be an associate sponsor on the No. 20 in the Monster Energy NASCAR Cup Series whenever they are not the primary sponsor.
Last week, when NASCAR was idle, JGR sent out a press release announcing there would be a Kenseth press conference today.
That immediately set the Internet burning with rumors that Kenseth was retiring.
At the time the release went out, Kenseth had 22 people at his home enjoying the rare off-week leading up to the Easter holiday.
My phone starting blowing up and I no idea what anybody was talking about, said Kenseth. Where does this stuff come from?
As it turns out, nothing could be further from the truth than rumors of Kenseth hanging up his helmet.
As long as you guys have known me, if I was going to do something like, I wouldnt call a press conference for it, said Kenseth of retirement. I probably just wouldnt show up at Daytona and just have everybody say, Where is he? or maybe send out a four-word Tweet.
Asked how long he wanted to continue to race, Kenseth said, tongue firmly planted in cheek, 15 or 20 more years.
And that would be just fine with his boss.
We love Matt and this (the Circle K announcement) was something that Matt was a part of, said team owner Joe Gibbs. We wouldnt be here today if Circle K didnt think they had somebody like Matt that could get up front.