Kenneth Faried hopes he is winning All-Star votes in the Philippines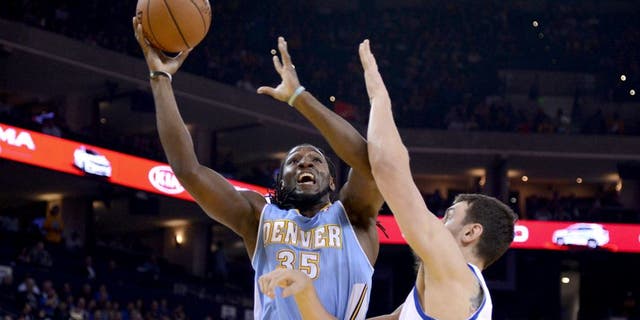 NEWYou can now listen to Fox News articles!
Denver Nuggets forward Kenneth Faried may have a hard time making the All-Star team in a loaded Western Conference, but he's doing a fine job recruiting new fans this offseason.
Faried is one of the many NBA players to serve as an ambassador for the league this offseason. The 6-foot-8 forward traveled to the Philippines, but didn't see a whole lot of Faried jerseys floating around.
Here's more from Nina Mandell at For The Win:
In the Philippines, Faried said that he hadn't seen a ton of people wearing Nuggets jerseys, but had noticed Nuggets hats and accessories. "But not my jersey -- I'm not that big of a name," he said.
He echoed other players' enthusiasm for how excited and knowledgeable fans seemed to be about the game itself and said the only thing he really had planned for the trip was to interact more with them.
But his visit may have had a bit of an ulterior motive: Form a new fan base to vote him into the All-Star Game.
"Hopefully they go with the flow and vote for me," he said. "If not, it's still exciting."
(h/t For The Win)