Kennesaw State tops Alabama 1-0; Travis Bergen gives up 5 hits in career-high 8 2-3 innings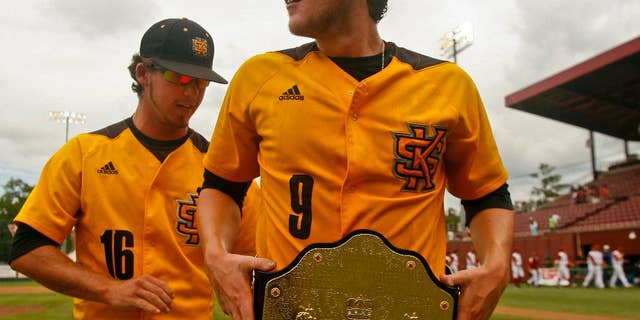 TALLAHASSEE, Fla. – Travis Bergen gave up just five hits in a career-high 8 2-3 innings as Kennesaw State defeated Alabama 1-0 on Friday in the NCAA Tallahassee Regional.
Kal Simmons' sacrifice fly in the fifth inning scored Brennan Morgan as the Owls (38-21) advance to play the Georgia Southern-Florida State winner on Saturday.
Bergen (8-4) had three strikeouts and scattered five hits before being pulled after allowing a two-out double to Austen Smith in the bottom of the ninth. Justin McCalvin earned his 15th save of the season when he got Kyle Overstreet to fly out.
Smith had two doubles and Chance Vincent went 2 for 3 for Alabama (34-23), which will play the Georgia Southern-FSU loser in an elimination game on Saturday.
Spencer Turnbull (5-7) walked four and allowed just three hits in 6 1-3 innings.