Kennedy keeps skating while assessing options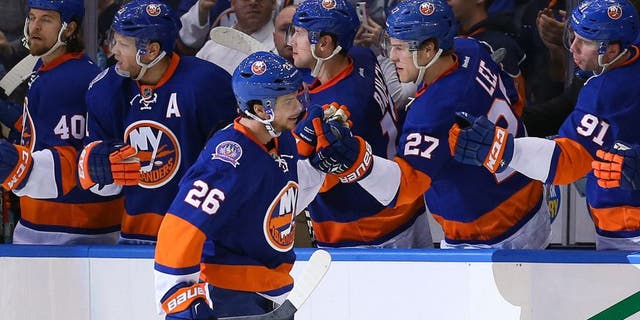 Tyler Kennedy is doing his best to keep his spirits up.
The unrestricted free agent is waiting for an NHL team to contact him after wrapping up last season's injury-marred campaign with the New York Islanders. In the interim, Kennedy has joined some of his former Pittsburgh Penguins teammates on the ice to keep his skating legs fresh.
"I've got nothing to lose," the 29-year-old left wing told the Pittsburgh Tribune-Review. "It might be good for me. Less pressure on me. ... It's not the situation you want to be in, but that's life. I think it'll make me stronger as person."
Kennedy scored two goals and set up three others in 13 games with the Islanders last season. The Ontario native was traded to New York from the San Jose Sharks, with whom he signed a two-year, $4.7 million deal prior to the 2013-14 campaign.
Selected with a fourth-round pick of the 2004 draft, Kennedy played his first six NHL seasons with Pittsburgh and won a Stanley Cup title in 2009. He has collected 86 goals, 113 assists and 225 penalty minutes in 477 career NHL contests.