Kennedy has been helping make Royals a contender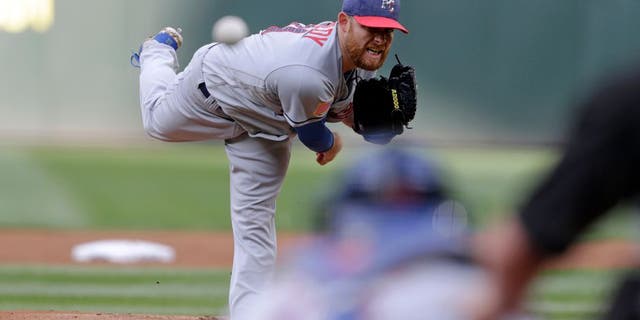 LOS ANGELES -- There are a lot of reasons the Kansas City Royals have gone from a team wondering about its future to a contender for the American League Central title.
Ian Kennedy is one of them. The veteran right-hander has been brilliant in his last four starts, helping the Royals overcome a horrendous April that had everyone in baseball speculating that the Royals, with a handful of standout players coming up on free agency, would soon be breaking up the nucleus of their 2015 World Series championship team.
Instead, they've won 18 of their last 25 games to move into contention in the AL Central as baseball nears its annual All-Star break.
The Royals have won in Kennedy's last four starts. He has gone six innings or more in three of them, including a gutty 6 2/3 innings in a win over Seattle on a day when the Kansas Citybullpen was spent. He has allowed just 14 hits and six earned runs in those four starts.
Kennedy started the season 0-6, one of the more misleading records in baseball. He has allowed six hits or fewer in all 15 starts this season going into Saturday's game against the Dodgers. The Royals scored just 28 runs in his first 10 starts.
"He started the year out really well," manager Ned Yost said. "We couldn't score any runs for him. He was getting like one run a game. He's kept us in every game that he's pitched."
Kennedy's only dent was a hamstring pull that led to a short stay on the DL and then some mechanical issues coming back. His .201 opponent's average ranks fourth in baseball behind All-Stars Max Scherzer, Clayton Kershaw and Chris Sale. He's 5-9 with a 4.31 ERA in 20 career starts against the Dodgers.
Dodgers starter Brandon McCarthy is coming off the 10-day disabled list, put there the day after he had a wild three-inning effort against Colorado that included two walks and three wild pitches in the second inning.
The injury was called a knee strain, but it looked more like a case of the yips.
"It's a very hard-to-describe feeling," McCarthy said after the start. "It certainly wasn't the usual feeling. Something was going on there with my cutter and four-seamer. The big thing is that I know what I'm confronting and how to get after it. I just have to get back to work."
McCarthy (6-3, 3.25) was brilliant in his six prior starts, throwing 34 1/3 innings while allowing 22 hits, eight walks and six runs. The 2017 season has been his best run since 2014, when he went 7-5 with a 2.89 ERA in 14 starts with the Yankees after a midseason trade.
He has made 14 appearances (six starts) against the Royals with a 3-2 record and 4.05 ERA. His last meeting was in 2014, when he went 6 2/3 innings and allowed two runs in a win while he was with the Yankees.
"He's worked as much as anyone, if not harder than anyone," Dodgers manager Dave Roberts said. "Because of not only the physical but the mental. And this is from last year to now."