Kendricks' new contract means Ryans won't return in 2016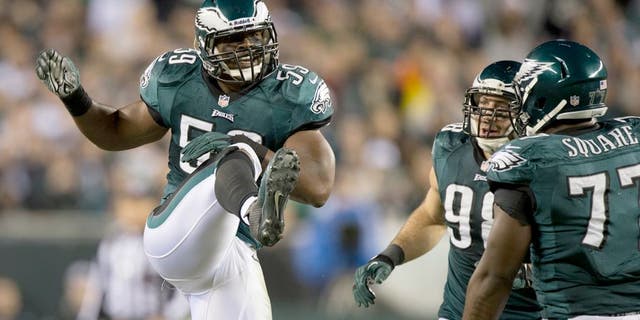 An offseason filled with rumors about the Phildelphia Eagles looking to trade inside linebacker Mychal Kendricks officially came to an end on Monday night when the team signed him to a four-year, $29 million contract with $16.4 million in guarantees.
Earlier this month, head coach Chip Kelly confirmed that Kendricks would not be traded, but that didn't guarantee his future with the team beyond 2015. Before signing his extension on Monday, Kendricks was set to hit unrestricted free agency this coming offseason.
Kendricks' signing could spell the end of DeMeco Ryans' run in Philadelphia following the conclusion of the 2015 season. Ryans has manned the middle in Bill Davis' defensive scheme for the last two seasons and he has operated as the quarterback of the defense. Earlier this offseason, Kelly also attributed the step back on defense to Ryans' absence after suffering a torn Achilles' tendon in Week 9 last season.
Ryans admitted earlier this month that he is not yet fully healed from the injury. On Tuesday, Eagles defensive coordinator Bill Davis admitted that Ryans may not be 100 percent healthy for Week 1, according to Les Bowen of Philly News. It's fair to question whether or not he will ever get his explosion back after this type of injury at his age (31).
Age and injury aren't the only factors working against Ryan's chances of sticking with the team beyond 2015. The Eagles added two talented pieces to their depth chart at inside linebacker this offseason. First, they traded for 2013 Defensive Rookie of the Year Kiko Alonso, and then they drafted inside linebacker Jordan Hicks. Earlier this offseason, Eagles' linebackers coach Rick Minter compared Hicks to Ryans.
Ryans is set to count $4.5 million against the Eagles' 2016 salary cap. The Eagles can recoup $3.5 million in 2016 salary cap space by releasing Ryans before June 1st. Ryans will be 32 years old when the Eagles kick of the 2016 regular season. With money invested at inside linebacker in Kendricks, and Alonso set to play 2016 under his rookie contract, the Eagles are likely to move on from Ryans in 2016.
For more news and analysis on the Philadelphia Eagles and the rest of the NFC East, you can catch Dan on Twitter @DanSchneierNFL.