Kendrick Perkins says Russell Westbrook and Kevin Durant are talking again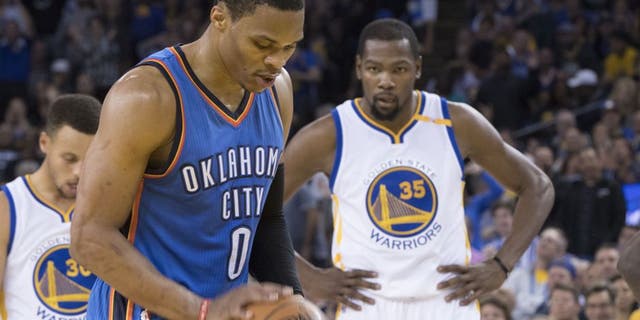 Russell Westbrook's run at history seems to have mended the rift with former teammate Kevin Durant.
Durant, who defected to the Golden State Warriors in the offseason, was at odds with the Oklahoma City Thunder superstar all season, but the former running mates patched things up in April, according to Kendrick Perkins -- who played with both in Oklahoma City.
Perkins was on TNT's "Area 21" after the Warriors finished a four-game sweep of the Utah Jazz on Monday night when he talked about thetensions between the two thawing recently.
I was trying to figure out a way tomake them talk again, because I felt like the outside world was putting a beef there that really wasnt too serious, you know what I mean? Perkins said. And sothe night that Russ actually broke the (triple-double) record, I had (text messaged) KD the next day, (and) he was talking about something, and he sent me a text and was like, Hey man, me and Russ had a nice conversation yesterday.The media dont even know nothing about it, but I just let it be known that theyre back on talking terms.
Perkins goes on to suggest that Durant might even go back to OKC after winning a title with the Warriors,but that seems like more of a stretch.
The Warriors await the winner of the Houston Rockets-San Antonio Spurs series in the Western Conference Finals.
Chris Humphreys-USA TODAY Sports | Chris Humphreys