Kelvin Gastelum vows to never fight in Brazil again after win against Vitor Belfort overturned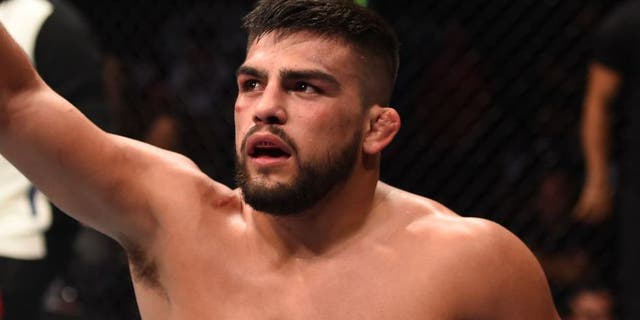 Kelvin Gastelum is done fighting in Brazil after he was handed a 90-day suspension, fine and his win over Vitor Belfort was overturned following a positive drug test for marijuana surrounding their fight back in March.
Gastelum's fight night sample returned positive for Carboxy-Tetrahydrocannabinol (Carboxy-THC), which is a metabolite of marijuana and/or hashish above the 180 ng/mL allowance by the WADA (World Anti-Doping Agency) standard.
On Sunday, The Superior Tribunal de Justica Desportiva do MMA (STJDMMA) the Brazilian Superior Justice Court of MMA released a statement confirming that Gastelum's TKO victory against Belfort would be overturned to a no contest on Monday.
Combate in Brazil initially reported the news on Sunday.
In addition to the win being overturned, Gastelum will also have to pay a 20-percent fine (his purse was not disclosed) as well as a 90-day suspension retroactive to March 11, which was the date of the contest with Belfort.
According to the agreement, the Brazilian court worked in coordination with USADA (United States Anti-Doping Agency), who oversees the UFC's anti-doping policy, as well as CABMMA, the Brazilian athletic commission.
The Brazilian courts also stated that Gastelum will not likely face any additional penalties from USADA as part of the settlement agreement.
Following news about his fight being overturned as well as the penalty, Gastelum took to Twitter where he declared that he will no longer compete in Brazil as a result of the punishment dished out for a positive marijuana test.
"Suspension accepted, but I will never fight in Brazil again. All they want is [money]," Gastelum wrote.
The positive drug test also cost Gastelum a fight with Anderson Silva that was previously scheduled for UFC 212 in Brazil on June 3.
Gastelum has since requested the fight with Silva be moved to the FOX UFC Fight Night card on July 22 in New York. As of yet, UFC officials have not booked Gastelum for another fight since he was pulled from UFC 212.