Kelvin Gastelum has designs on becoming a two division UFC champion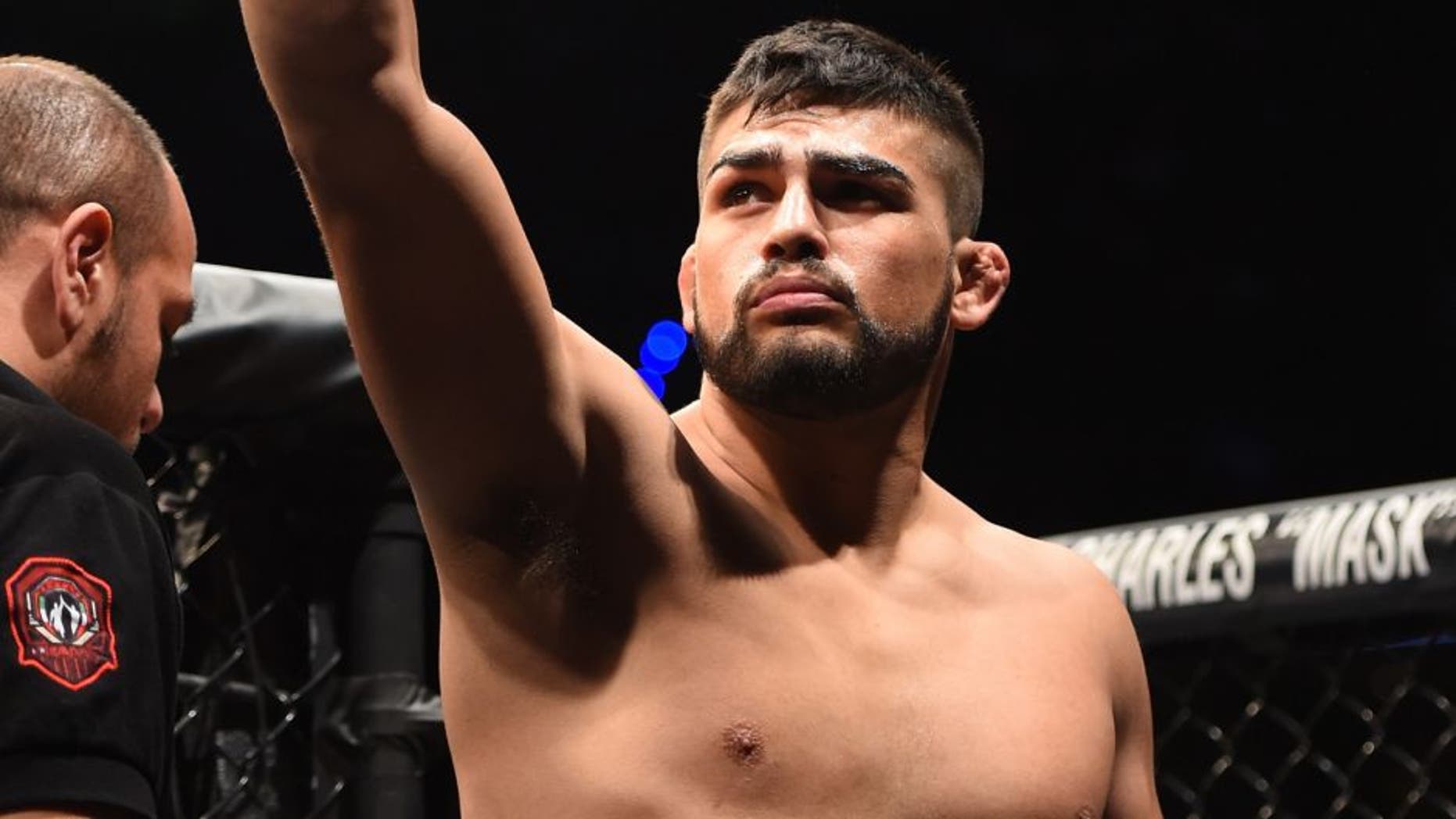 Kelvin Gastelum knows what people are going to say when they hear him talk about becoming a two division champion in the UFC.
Of course there will be those who support the former "Ultimate Fighter" winner, but Gastelum is well aware of the fact that the majority of fans and critics will likely scoff at his suggestion that he could one day become champion at both middleweight and welterweight.
The odds don't seem on Gastelum's side.
He's struggled to cut down to welterweight so many times that the UFC eventually forced his hand to move up a division. Gastelum now will compete with his second top 10 ranked middleweight when he faces Vitor Belfort in the main event from Brazil on Saturday night, but that's still a far cry from title contention.
Gastelum's only two losses in the UFC come to welterweight champion Tyron Woodley and top 10 ranked fighter Neil Magny, but given his up and down run at 170 pounds it's tough to imagine he'd be put into a championship bout any time soon.
All of those things are true but Gastelum heard the same naysayers tell Conor McGregor he'd never win a title one time much less twice and he eventually made history as the first ever simultaneous two division champion in UFC history.
"Why not? Other people are doing it so why not?" Gastelum told the Fight Society podcast. "I feel like I have the abilities to compete with the best middleweights and the best welterweights. So why not?
"All I need is self belief and that's what Conor McGregor had. Everybody thought he was crazy, except himself. He went out and did it so why not think I could do it?"
Gastelum has long been considered one of the best prospects in the UFC but now at 25-years of age he's finally starting to get his feet under him in terms of experience inside the Octagon.
Gastelum knows he's made some mistakes in the past regarding his weight cutting, but with time comes knowledge and he's learned a lot of valuable lessons from what he's done wrong in the past. All of that combined together make Gastelum believe that he's still fit for the welterweight division but maybe he'll put that on hold if the opportunities are too good to pass up at 185 pounds.
"In my head, yeah, I feel like welterweight's still my optimal weight class. I'm still figuring out my body and figuring out these weight cuts to make it easier," Gastelum explained. "I'm still growing and learning with this. I'm rolling with the punches.
"You've got to learn and roll with the punches and grow from these experiences."
For now, Gastelum will stay focused on his career at 185 pounds with a main event fight on Saturday night against Belfort with a chance to pick up his second straight win in the division.
A victory over Belfort would certainly catapult Gastelum much deeper into the top 10 rankings and that much closer towards his ultimate goal of becoming champion. .
While it might seem on the surface that Gastelum is looking too far into the future talking about title shots and becoming a two division champion, he says that couldn't be further from the truth.
Gastelum is just visualizing what he wants as long term goals but he's absolutely ready for the best Belfort to step into the Octagon with him on Saturday night.
"He's been up, he's been down. He's been in the game for 20 years. You don't go through the game 20 years without knowing and growing from your experiences," Gastelum said. "I think he's comfortable in the position he's in. I think he's trained well and mentally prepared and physically prepared for the fight.
"I expect the best Vitor Belfort. This might be his last fight so I expect him to be at his best."
Gasetlum and Belfort battle in the main event from UFC Fight Night in Brazil on Saturday night with the main card kicking off at 10 p.m. ET on FS1.