Kelly identifies keys to Notre Dame making College Football Playoff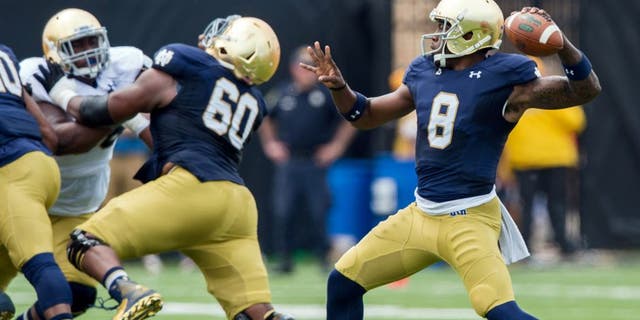 NEWYou can now listen to Fox News articles!
During an appearance on the Dan Patrick Show on Friday, Notre Dame football coach Brian Kelly was asked by the host what would be the key to the Fighting Irish making the second College Football Playoff field.
"If we stay healthy," Kelly replied.
Patrick was not satisfied with that answer, however, so Kelly elaborated.
"It still comes down to quarterback play," the coach said. "The ability to Malik Zaire to continue to get better and lead our offense because it's still centered around quarterback play. I think if we do that. If we can stay healthy on defense. Those are the two things that derailed us last year. We couldn't take care of the football and our play at that position did not get better at the end of the year, and defensively we lost key players, so quarterback play and injuries -- if those two things come together, I think we've got a great chance to be in the playoffs."
Zaire is a sophomore taking over for two-year starter Everett Gholson, who threw 14 interceptions last season and transferred to Florida State after competing with Zaire in the spring.
"Malik is a young man who plays with a great deal of passion and emotion," Kelly said. "He has great leadership qualities and has the ability to impact our team both as a runner and as a thrower of the football.
"In terms of what you're trying to accomplish offensively he gives you that ability to both run it and throw it with him and in college football today that is an important piece."