Kawhi Leonard likely isnt playing in Spurs-Warriors Game 4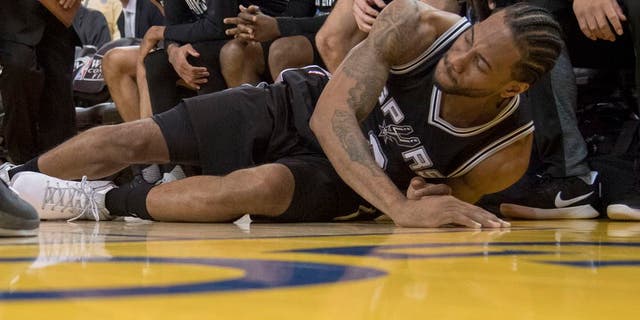 The San Antonio Spurs are on the brink of elimination and it appears they will not have their best player on the floor in a must-win Game 4 against the Warriors on Monday. Spurs head coach Gregg Popovich told reporters Sunday that it is unlikely that Kawhi Leonard will be back when San Antonio tries to stave off elimination.
Leonard has missed the past two games after reinjuring his ankle in Game 1 of the Western Conference finals. The Spurs are already without point guard Tony Parker, who suffered a season-ending quadriceps injury earlier in the playoffs, and might not have power forward David Lee, who injured his left knee in San Antonios 120-108 loss Saturday.
Leonard initially rolled his left ankle in Game 5 against the Rockets in the Western Conference semifinals, forcing him to miss the next game. Leonard then rolled the same ankle twice in Game 1 against the Warriors, stepping on a teammate's foot and then landing on Zaza Pachulia's foot after taking a jump shot.
Leonard is averaging 27.7 points, 7.8 rebounds and 4.6 assists in the playoffs. The two-time Defensive Player of the Year is the Spurs No. 1 option on offense and also defends the oppositions top threat.
Soobum Im-USA TODAY Sports | Soobum Im