Kawhi Leonard clarifies his Game 6 injury status after sitting out OT in Spurs win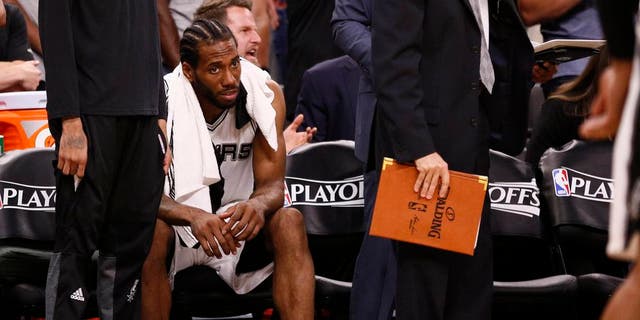 The San Antonio Spurs found a way to win Game 5, but they seemed to take a big blow along the way.
Kawhi Leonard suffered a lower leg injury in the second half on Tuesday when he landed on James Harden's foot, an injury that forced the two-time Defensive Player of the Year to miss San Antonio's final possession of regulation and the entirety of overtime.
But the Spurs received some good news after the game. Leonard, who was walking with a pronounced limp, told reporters he won't miss Game 6 on Thursday in Houston.
LEONARD: "It's a little sore, but I mean, my teammates did a good job of closing out that game with me not being able to go that last stretch."
REPORTER: "Is it an ankle or knee?"
LEONARD: "Ankle." […]
REPORTER: "Pop said you wanted to play, but it was obvious that you needed to come out. How severe of an injury is it? Do you think you'll be able to play in Game 6?"
LEONARD: "Yeah, I'm going to be able to play."
Leonard naturally struggled for most of the second half following the injury, finishing with 22 points on 8-for-21 shooting, along with 15 rebounds and four assists.
The Spurs got a huge boost from Manu Ginobili with Leonard on the bench, as the 15-year veteran came up with a massive block on Harden on the final possession of overtime to seal San Antonio's win.
The question now for the Spurs is how limited Leonard might be in what could be a close-out Game 6. Even before the Leonard injury, San Antonio reverted to its switch-heavy defense, rather than having its franchise player try to lock down Harden for most of the night.
If Leonard isn't 100 percent on Thursday, it stands to reason the Spurs would use a similar defensive tactic, encouraging Harden to attack mismatches in isolation instead of running the typical Houston offense.
Either way, Game 6 should be a ton of fun.