Karns seeks first KC win; Royals just seek wins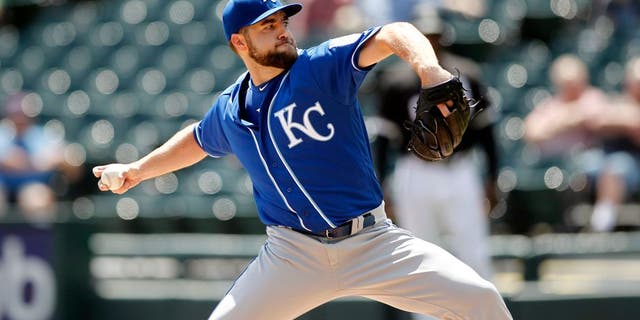 Nate Karns is pitching better than his numbers might indicate.
The Kansas City Royals right-hander, who starts Wednesday against the Chicago White Sox, has 19 strikeouts and nine walks in 23 innings. Opponents are hitting .270 off him, and he has allowed a team-leading six home runs.
Overall, he is 0-2 with a 6.26 ERA. Right-handers are hitting .241 off him with two homers, eight walks and 10 strikeouts, while left-handers are batting .283 with four homers, one walk and nine strikeouts.
"I think Karns is throwing the ball pretty good," Royals manager Ned Yost said. "He comes out and keeps us in ballgames for the most part. His stuff has been really, really good. He's just getting settled into this rotation. I think he's throwing the ball OK."
The Royals will try to avoid their 11th loss in the last 12 games.
The White Sox will start right-hander Mike Pelfrey, who will be making his third start of the season after being signed in April to a minor league contract.
The Detroit Tigers released Pelfrey at the end of spring training, despite signing him to a two-year, $16 million contract before the 2016 season. Pelfrey went 4-10 with a 5.07 ERA in 22 starts and two relief appearances last season with the Tigers.
Pelfrey went 0-2 with a 7.50 ERA in two starts with Triple-A Charlotte. He joined the Chicago rotation April 22 after James Shields went on the disabled list, and he is 0-1 with a 5.00 ERA for Chicago.
Pelfrey is 1-4 with a 6.51 ERA in nine career games, including eight starts, against the Royals. Having faced the Royals so many times, does he have to alter his approach against them?
"I think you try to find the happy medium where your strength is and where their weakness is," Pelfrey said. "I think you try to attack that. You know, I'm a big believer that this game's about executing pitches.
"I think sometimes, if the guy might be good down and in, and I'm good down and in, I think it's about beating him to the spot and making good pitches. If you make a good pitch, they might still get a hit, but most of the time I think you get good results. …
"It changes a little bit different over time. I've been a guy who's thrown 75 percent, 80 percent heaters, and I've got to 55 now. So, it changes the way I pitch a little bit, so that'll be a little bit different for them. You still have to remember what got you here and stick with that and make little adjustments in between."
The White Sox should have a rested bullpen for Wednesday thanks to astrong outing by Jose Quintana on Tuesday. The left-hander threw eight innings, allowing just four hits in a 6-0 Chicago win that evened the series at one game apiece.
The only Chicago reliever who saw action was Anthony Swarzak, who retired all three batters he faced in the ninth.