Karl-Anthony Towns says Timberwolves can make the playoffs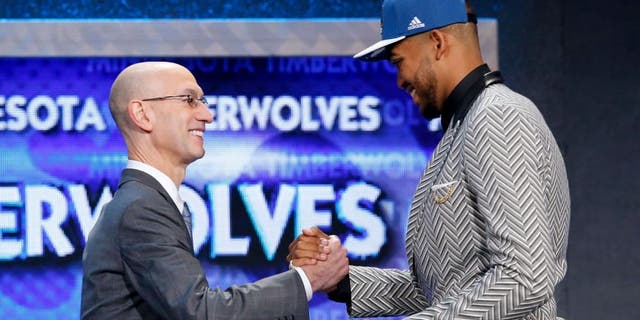 NEWYou can now listen to Fox News articles!
Karl-Anthony Towns was selected by the Timberwolves with the first overall pick in this summer's draft, and he's taking that responsibility very seriously.

Despite the fact that Minnesota finished with a league-worst record of just 16-66 last year, and did so while playing in the ultra-competitive Western Conference, Towns believes that his presence, along with the development of those already in place could be enough for the Timberwolves to make it to the postseason during his very first professional season.

"Me personally, I think we can make the playoffs," Towns said this past weekend, at the NBA's rookie photo shoot in New York. "Even being in the Western Conference like we are, we have the talent, we have the coaching staff, we have the ownership. We have the right tools to be a playoff team."
It's a long shot, to say the least.

Not only would plenty have to go right for the Timberwolves in order for them to make a leap large enough to win the 48 or so games that would be required to gain entry into the postseason, but things would have to go very wrong, likely in the form of multiple and significant injuries, for a team or two to fall out of the West's top eight as most are currently projecting.

Minnesota has a nice young core, and if Towns steps in and contributes immediately, Andrew Wiggins and Zach LaVine develop more quickly than expected, and Kevin Garnett can provide more than just veteran leadership, the Timberwolves can show some significant improvement.

But it's highly doubtful the stars align to the point where the playoffs can be considered a realistic possibility.