Kansas football's positive momentum finally is palpable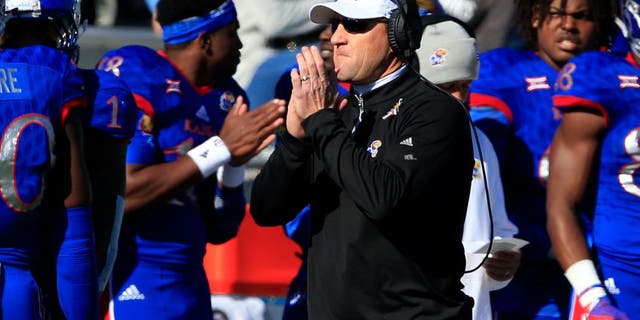 NEWYou can now listen to Fox News articles!
LAWRENCE, Kan. -- The momentum Kansas has been slowly building in football the past couple of years may have finally manifested itself during a February weekend, the time of year when the Jayhawks' top-tier basketball program is usually center stage.
Six high-profile recruits, all from out of state, pledged to join coach David Beaty's program.
Suddenly, the whispering among fans jammed inside Allen Fieldhouse turned from Frank Mason III's player-of-the-year candidacy and Josh Jackson's jump shot to autumn Saturdays in Memorial Stadium.
Kansas athletic director Sheahon Zenger, who hired Beaty to replace the failed Charlie Weis, said the "positive energy" around the team is incredible.
"I'm getting comments I've never had before regarding previous coaches -- 'Give this guy time.' 'I hope this guy gets four years, five years before we even start to think about anything else,'" he said.
Lest anyone get carried away, two of those high-profile recruits have already backed out of their non-binding verbal commitments. And as he enters his third season in charge, Beaty still has just two wins to his resume, and only one of those was against a Football Bowl Subdivision foe.
But a victory last fall over Texas may have been the watershed moment that Beaty needed in a gargantuan rebuilding effort. When the score flashed on TV screens across the country, all those prospects who might never have given the Jayhawks a chance at least took notice.
The four whoremain committed after the Jayhawks' blockbuster weekend, all from Louisiana, could one day form the basis of a team that competes for bowl games: four-star wide receiver Devonte Jason, four-star defensive back Corione Harris, and three-star prospects Aaron Brule and Anthony Williams.
Beaty is barred from talking about recruits under NCAA rules, but even a coach with a perpetual hop in his step seemed to be floating a little bit higher when spring practices began a few weeks ago.
Then there is this past year's class, headlined by quarterback Peyton Bender and junior college player of the year Octavius Matthews. It is arguably the first class Beaty has been able to fully invest in during his time at Kansas, and one that should feature prominently on the field this fall.
"I'm learning, just like our players do," Beaty acknowledged ahead of Saturday's spring game. "It's going to take a couple of years. You just don't know, until they know how to do laundry and change their own oil and do stuff like that. There's a lot with young guys, but the level of player in this class, I think it's pretty high."
It's certainly a new level for Kansas, which hasn't had a winning season in nearly a decade.
John Rieger | John Rieger-USA TODAY Sports
After the successful run of Mark Mangino ended with a myriad of messy allegations, the program quickly backtracked under Turner Gill. Weis was a splashy hire with plenty of Super Bowl rings, but his approach to rebuilding the program seemed only to make matters worse -- players left, recruits didn't bother to give Kansas a chance, and he never seemed to have the energy it took to get things going.
Beaty represented the polar opposite: He had no experience as a college head coach, but he did have deep recruiting ties in Texas and the kind of boundless enthusiasm it takes to reel in prospects.
"I've lived through this at least one other time, if not several," Zenger said of the rebuilding project, one that even the AD admitted was monumental. "Coach Beaty has been here long enough, they've seen the proof in the pudding, the way he handles players. The relationships. We have seen it in the recruiting of both players and staff, and with his energy behind facility upgrades."
Yes, the program's momentum has even produced brick-and-mortar results.
There have already been upgrades to the locker room and training facilities in the football complex. And plans for a more extensive renovation of the aging eyesore of Memorial Stadium may finally get off Zenger's desk, where they've been sitting for years.
"You know, we're extremely proud of our basketball program. It's our bell cow. My job is to keep that where it's at," Zenger said, "but at the same time, football is important. It's important at every school. And I think we're on the right track."