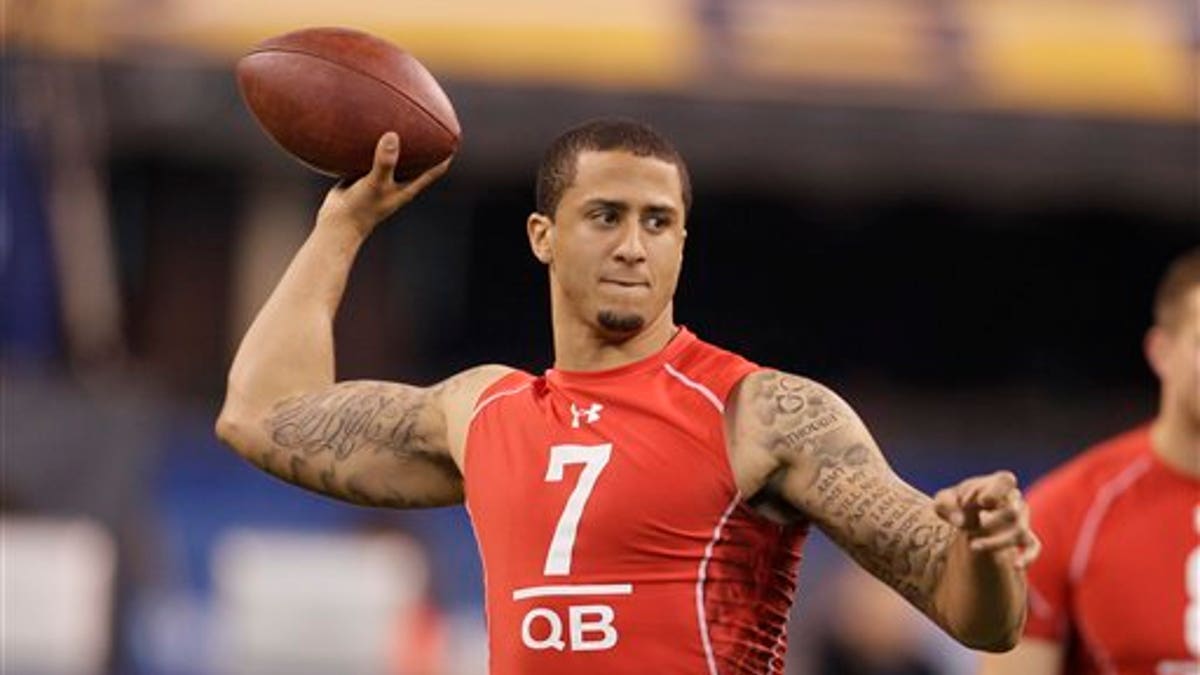 A few months back, there was little doubt that Colin Kaepernick would be spending draft day with his family at his parents' house in California.
Kaepernick finished a four-year career at Nevada with gaudy statistics — he's the only player in college football history with three seasons of 2,000 yards passing and 1,000 yards rushing — but not much buzz as an NFL prospect.
In the pecking order of quarterbacks available in this draft, Kaepernick seemed to be far behind the top guns such as Heisman Trophy winner Cam Newton, Missouri's Blaine Gabbert, Washington's Jake Locker and Ryan Mallett of Arkansas.
Well, much has changed since January. With the help of strong showings at the combine and senior bowl, Kaperenick's stock has soared to the point where he has been invited by the NFL to attend to draft in New York, which starts April 28 with the first round in prime time.
"Not 100 percent sure what I'm going to do yet," Kaepernick told the AP on Monday. "But either way I I think it'll be a good time on draft day."
___
A little more than a week before the draft, Kaepernick was taking some time to relax after a busy few weeks on the road visiting NFL teams.
He said he needed to decide in a few days if he would make the trip to New York with his family to attend the draft.
He's never spent any extended time in New York. His one trip there came earlier this year, when he did a photo shoot for a magazine.
"The cool part about being there, you're going to be around a lot of the best prospects," he said. "Some of them might be your teammates, some of them might be the competition. It'll be cool just to sit around and talk with them and hang out. Just to get that experience of being in New York for draft day."
While it's important to Kaepernick that his family be involved in his big day, he also knows that he can count on his mother and father to provide guidance without trying to run his life.
When Kaepernick was being scouted by Major League Baseball teams in high school, his parents never tried to dissuade him from following his passion and playing football — even though he received only one scholarship offer.
"That's how he's been my whole life," Kaepernick said about his father. "When I started playing football when I was 8 years old, it was this is something you can do if you want, but it's up to you."
Kaepernick's father, Rick, and mother, Teresa, adopted him when he was a baby, just a few weeks after he was born in 1987. He spent the first four years of his life in Wisconsin — long enough to become a Packers fan in a family full of them — and the family moved to Turlock, Calif., when he was 4.
Kaepernick tends not to offer up that he was adopted, though as his father says, the family photos make it pretty obvious that Colin came from a different gene pool. Colin's skin is much darker than the rest of his family.
Rick Kaepernick likes to tell the story of how when Colin was in first grade, before he had any idea he was adopted, he drew a picture of his family with crayons. He used brown crayons to color himself and lighter colors for the rest.
Colin Kaepernick said he's had some contact with his birth mother through email in recent years, but has no interest in meeting her.
"There's no question who's my family, who loves me and who's taken care of me," he said.
That's why, he says, the thought of being stuck for hours backstage at the NFL draft, maybe even having to show up for Day 2 and the second and third rounds, won't be the deciding factor when he chooses what to do on draft day.
"You definitely have to take everything into consideration. But for me, my goal is to try to be gone Day 1," he said. "I hope that I've done everything to show teams that's where I should belong.
"But when it comes down to it, I'm really more worried about what's best for my family and letting them be part of this experience."
At this point in the draft process, leaks are springing everywhere but it's hard to tell how much of the information being reported is reliable. Teams try not to show their hands if they are interested in a player and might actually fake interest in one to hide that they are targeting another.
Kaepernick said his agent and family will email him news stories and articles about where and when he might be drafted, but he tries not to pay much attention to the cacophony of pundits and prognosticators.
"Some people might love you, some people might hate you," he said. "And you're going to get different opinions from everywhere depending on what people really look for in a quarterback, what they think you're capable of and what their opinion is of you."
As the months have past, it seems more and more teams have come to think highly of Kaepernick's powerful arm and speed.
"To now be considered a first-round draft pick or possibly a first-round draft pick, is something that was my goal and something I thought I was capable of doing," he said. "I don't think a lot of other people thought that until they saw me play.
"For me moving up draft boards so quickly has been exciting and it's been fun."