Kaepernick social media posts laud Black Lives Matter, Black Panthers since dating activist DJ
NFL quarterback Colin Kaepernick's conversion to social activism coincided with his romancing of a hip hop DJ of Egyptian descent who has frequently spoken about perceived racial injustices and "Islamaphobia" in the U.S.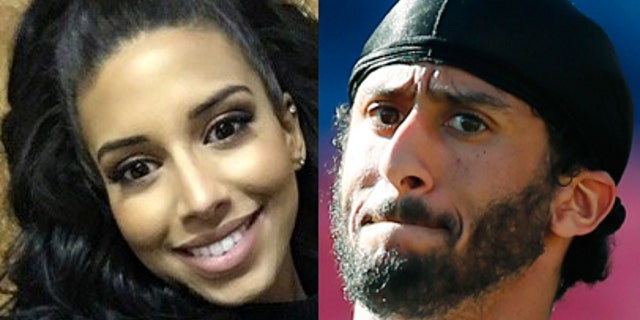 Kaepernick, 28, who has come under fire for his decision to remain seated during the playing of The Star-Spangled Banner before San Francisco 49ers games, reportedly began dating Hot 97 DJ and MTV host Nessa Diab in July 2015. A few months later, his social media posts began to reflect the Black Lives Matter and Muslim activism of Diab.
"History!" Kaepernick wrote on Instagram Oct. 15, when he marked 50 years since the Black Panther Party was founded.
Kaepernick has posted 170 photos or videos on his Instagram account in the four years since he created it. Most of his first 128 posts were pics of him in football gear, publicity photos or shots taken with friends. But 31 of his last 42 posts have strong social justice connotations, often featuring quotes from radical Nation of Islam leader Malcolm X, Black Panthers founder Huey Newton and cop killer Assata Shakur. During a Sunday news conference about the flag flap, Kaepernick dressed in a black hat with a large, white "X" and a T-shirt that featured photos of Cuban despot Fidel Castro and Malcolm X.
Kaepernick, who was notably photographed with Bible quotes tattooed on his biceps when he first came into the league, also posted a greeting in July acknowledging "a lot of people" who he knew fasting during the Muslim holiday of Ramadan and wishing them "a Happy Eid!" He also was heavily critical on social media of Republican presidential candidate Donald Trump's proposed ban on Muslims.
Diab's Twitter and Instagram account is a mish-mash of black activism, celebrity pics and the occasional defense of Islam. She frequently retweets Black Lives Matter supporter and newspaper columnist Shaun King on race-related issues. On Aug. 18, Diab retweeted another user's musings that black athletes face a backlash for expressing political opinions with the added comment "YESSSSSS." She defended Kaepernick in an Aug. 28 tweet, writing, "I'm always proud of him and always will be @Kaepernick7 . Please take the time to UNDERSTAND what he is saying," followed by a link to a transcript of his news conference.
Diab said in a March 2014 interview that she spent many of her formative years in Saudi Arabia, after her dad was transferred there from a job in California. She described being in the Kingdom during the Gulf War and how the threat of bombings later colored her impression of American tragedies.
"When 9/11 happened, it didn't surprise me at all," Diab said on the Guy Code Podcast. "'Wow. Mmkay. This is what we went through, probably, every couple months.'"
On the 10th anniversary of the Sept. 11, 2001, attacks, Diab posted a quote on Instagram from President Obama saying in part "ISIL does not speak for Islam." Diab added: "Had to repost @ebroski on this and also check those comments out #knowledgeispower #enlightenment."
Posting about Alton Sterling's controversial shooting by police officers, Diab remarked "they will also try to discredit the store owner's account of what occurred because he's Muslim and we know Islamaphobia is at an all-time high in this country."
Diab said her parents, who were originally from Egypt, were highly educated, but denied some jobs in the U.S. "because they have an accent."
Kaepernick said on Sunday that his sitdown is for "people that are being oppressed" and he'll end the protest when "I feel like that flag represents what it's supposed to represent."
Kaepernick said he planned further activism beyond the seated demonstration.