Kaepernick shows signs of progress on Sunday night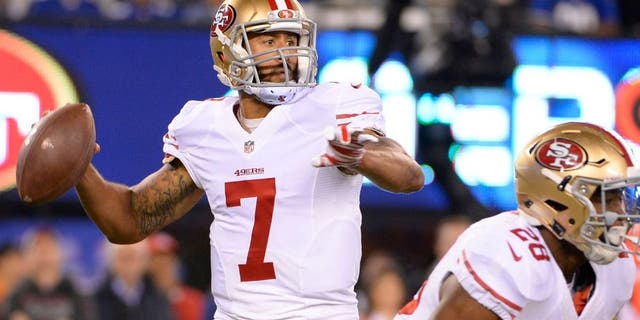 NEWYou can now listen to Fox News articles!
Kaepernick isn't broken.
That was the good news for San Francisco on Sunday night, news that got pushed to the national back burner after the Giants' comeback but will be viewed as a sign of progress within the walls of Niners' facility. The team has been trying to be as patient as possible with Kaepernick in recent weeks, despite performances that might have made some start to wonder whether the next escape hatch in his contract would be useful for the team.
The team's patience was no more evident than when head coach Jim Tomsula was about to lose his mind over Kaepernick's calling a timeout at the end of the third quarter instead of just letting the clock run out. It was a waste of what could have been a useful timeout later. Like a parent trying to go easy on his kid, Tomsula went from rage to a calm look and an "That's all right" in a hurry.
Meanwhile, the team's veteran wide receivers Anquan Boldin and Torrey Smith have been staying patient and remaining supportive both publicly and privately. The gist of what the Niners' players and coaches wanted from Kaepernick is for him to start letting it fly downfield instead of being hesitant in his reads.
Kaepernick did that on Sunday night, after getting comfortable on shorter passes early in the game, and it led to good results.
There was a deep ball to Smith in the second quarter that drew a holding penalty, a gorgeous ball on a vertical route to Boldin for 37 yards early in the third quarter, another good ball on the next play that could have easily been a touchdown but was slightly overshot, a good read on a hot route early in the fourth quarter and a deep ball to Smith that drew a 28-yard pass-interference penalty to set up a touchdown.
It was by no means a perfect performance and there were times Kaepernick again held the ball instead of taking a shot down the field on a mid-range or deep ball. But it was progress.
"You're able to complete some short stuff and it keeps you confident and you make some more plays," Smith said of the progression of Kaepernick's night. "He did a great job. I said I'm proud of him and we've got to continue to build on that."
"Obviously," Tomsula said, "that was much better."