Kaepernick not worried about personal, team struggles in preseason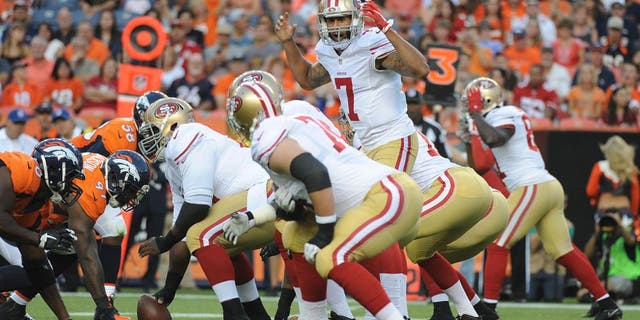 Colin Kaepernick has looked largely underwhelming through three preseason games.
He's just 5 for 13 for 40 passing yards, has yet to throw a touchdown (or interception) and has taken three sacks, including one safety.
Yet the signal caller isn't panicking one bit.
"There's not any concern on this team," Kaepernick said, via ESPN. "That's what the preseason is for, is to work those things out and see who we have in different positions. So that's what we're doing and we're working to make sure we're ready for the regular season."
Perhaps a lot of the offensive struggles can be pinned on the lack of continuity up front.
After registering a career high in rushing yards last season, Kaepernick may be forced to scramble more based on the preseason play of the offensive line.
It's not the ideal situation for the 49ers, but it's one where the signal caller sees an opportunity for himself.
"It always feels good to be in the open field," he said, via ESPN. "I feel like that's where I have the ability to make some plays."
(h/t ESPN)